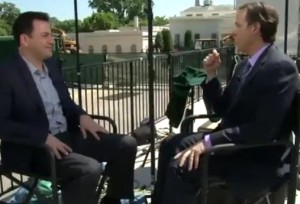 Although it was almost three weeks ago, it's never too late to keep talking about Nerdprom, aka the White House Correspondents Dinner. WHCD headliner Jimmy Kimmel recently told Howard Stern that ABC News' Jake Tapper helped him vet the jokes, and shared a particularly offensive example that Tapper vetoed, which has been somewhat mischaracterized as an "abortion joke."
Read the joke in question, if you dare, and check out Tapper's reaction to being Kimmel's comedy mentor.
According to an ABC source, Kimmel reached out to Jake about a month before the dinner because Tapper had interviewed Kimmel's then-girlfriend, Sarah Silverman, for Nightline years ago, and she and Tapper had stayed in touch. "That, and the ABC bond, and his unfamiliarity with the dinner, prompted him to ask for help reading the room," the source said. "Over the course of the lead-up to the dinner, Kimmel would email Tapper jokes, and Tapper would tell him if he thought any of them crossed the line, or which ones might play especially well."
Just after the White House Correspondents' Dinner, Jake Tapper posted an interview with Kimmel in which the pair discuss the help Jake gave him in deciding which jokes to keep, and which ones to toss. In the interview, Tapper jokingly questions Kimmel's choice of comedy mentor, and cops to a "pretty sick sense of humor."
Even by those standards, though, it must have been an easy call to axe the vicious shot at Rick Santorum that Kimmel described to Howard Stern: (transcript via Jim Romenesko)
KIMMEL: I had some jokes about — like Rick Santorum. I said something like — well, I didn't say it, but: Newt Gingrich's campaign is so dead Mitt Romney wants to baptize it and Rick Santorum wants to put it in a jar and show it to his kids.

STERN: You didn't want any abortion jokes?

KIMMEL: People went like, uh-oh. I ran it by people who go to this thing.

STERN: Who do you run it by?

KIMMEL: There's a guy named Jake Tapper at ABC News, I ran jokes by him. He's been there a lot of times. There are a few other people — reporters.
The first part of the joke is a reference to the discredited Mormon practice of posthumously baptizing people without their consent, or their families', including President Obama's late mother.
The latter incident Kimmel refers to is the Santorums' expression of grief following the 1996 death of their newborn son, Gabriel, which caused some controversy earlier this year when MSNBC contributor Eugene Robinson and Fox News' Alan Colmes each made disparaging references to it on the air. That Kimmel would even consider telling such a joke at all is baffling, especially given the fact that Rick Santorum was in the WHCD audience.
Stern's reply about "abortion jokes" feeds into pervasive misconceptions that Gabriel was miscarried (which was how Yahoo! News misreported it) or stillborn (an error that Robinson made), when in fact, he lived for two hours before passing away. Initially, "abortion joke" was part of Politico's headline, and the body of their post was updated to clarify Stern's characterization.
In an email statement, Tapper said ""I tried to help Jimmy with the temperature of the room and yes — I thought that joke would cause the room to turn against him, perhaps even causing a stampede, with the Hilton getting in on the tar and feather concession. Seeking to spare him a Rich Little-like reception, I offered my suggestions — such as they are — as to which jokes might bomb."
A source close to Tapper confirms that it wasn't a close call to cut the joke, an attempt to find humor in a family tragedy that would definitely have turned the room against Kimmel. I'm not sure what room that joke would play in, unless the MC was a guy with a red tail and a pitchfork, and even there, he'd probably get a few walk-outs.
Good for Kimmel for listening to Tapper's advice, but I question the wisdom of then telling the joke to Howard Stern. Kimmel is aware that Stern's show has a slightly bigger audience than the ballroom at the Hinckley Hilton, right? Jimmy, we can all hear you!
As for Jake Tapper, he's been in the media news lately by virtue of CNN's reported (and conspicuously not denied) attempted woo-age, but if this story is any indication, maybe Comedy Central will be next to knock on Tapper's door. Jon Stewart, watch your back.
Have a tip we should know? [email protected]