Jake Tapper Reassures Colbert: Lame Duck Congress Won't Do Much, If Anything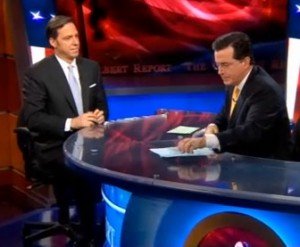 Viewers of Comedy Central's Dynamic Duo of Drollery were treated to the succulent aroma of Roasted Lame Duck last night. While Daily Show host Jon Stewart served viewers his trademark recipe of clips 'n commentary, right-wing fundit® Stephen Colbert seasoned his dish with satirical panic that the injured waterfowl might have a fighting chance. He then called on sous chef Jake Tapper to flambé that "frightening" notion, served with a tall glass of ice-cold Political Punch. Unfortunately, there's probably nothing in the world that can keep this lame duck Congress from leaving a bitter aftertaste.

Here's the full segment from last night's The Colbert Report on Comedy Central:
Tapper's analysis is dead-on, with one possible exception. While most people agree that the end result will be a temporary extension of the Bush tax cuts for the wealthy, a fallback position that the Democrats fell back to weeks ago, I think the Dems can do worse. I can see the Democrats finding a middle-ground between that and a permanent extension, perhaps an extension with a trigger mechanism to increase taxes on the wealthy by 2%, indexed to the cost of utilities in a broad cross-section of Hades.
Followers of Jake Tapper's Twitter feed got an extra treat in advance of last night's show, a candid shot of Colbert prepping for the evening's taping. The ABC News Chief White house Correspondent also appeared on The Report in April, to discuss his fact-checking innovation as interim host of This Week. Colbert also voiced support for Tapper as permanent host of This Week, a job that eventually went to Christiane Amanpour.
Have a tip we should know? tips@mediaite.com