Jake Tapper Swats Away CNN Anchor for Asking if Obama Attacked GOP Critics in Mandela Eulogy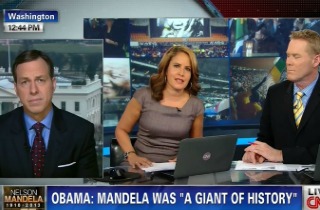 On Tuesday, President Barack Obama delivered a passionate eulogy for Nelson Mandela, South Africa's late former president. During a segment on CNN analyzing the president's speech, The Lead host Jake Tapper was asked whether the president's admonition of those who stand athwart the progress Mandela championed during his life was a subtle attack on Republicans in the United States. Tapper flatly said that Obama's statement was not an attack on the GOP but on repressive foreign governments.

CNN anchor Suzanne Malveaux opened this segment by noting that "African-American who's feel like they want more from this president" on the topic of America's racial disparities may be disheartened to see him so freely address the issue of South Africa's history of racial inequality.
"The president has always had a tough line to walk here when it comes to that," Tapper replied. "He's been mindful of the fact that that he's not president of African-Americans. He's President of the United States, and that, to many African-American leaders, has often been disappointing."
RELATED: President Obama's Speech at Nelson Mandela Memorial (Full Video and Transcript)
Malveaux played a clip of the president attacking "leaders" who he said claim to support Mandela's goals but "do not tolerate dissent from their own people." Tapper said that this message was clearly directed at the globe's illiberal governments that expressed solidarity with Mandela in death but do not govern as he did in life.
"Do you think there was a message in the domestic audience, as well?" Malveaux asked. "Do you think he was speaking to some of his critics in the United States who prevented him from moving forward in his own agenda?"
"I don't," Tapper responded.
Watch the clip below via CNN:
[Photo via screen grab]
— —
> >Follow Noah Rothman (@NoahCRothman) on Twitter
Have a tip we should know? tips@mediaite.com