Jake Tapper Takes On Obama's 'Unusual' Decision To Skip Meeting World Leaders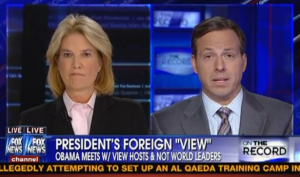 ABC News' Jake Tapper paid a visit to Greta Van Susteren on Monday night to discuss President Barack Obama's decision not to meet with world leaders while the United Nations General Assembly is in New York City. Many have critically pointed to the timing of his appearance on The View. Tapper noted that it was indeed an "unusual" move for the president — and that it reveals "friction" with the Israeli prime minister.
Tapper said it was an "anomaly" for the president to forego meeting with world leaders, and that "there really isn't a full explanation that's been forthcoming other than the president has a busy schedule." The situation is another example of the fact that Obama and Israeli Prime Minister Benjamin Netanyahu have, "if not a rocky relationship, not the smoothest relationship that has ever existed between an American and Israeli leader."
On a broader note, Tapper said it is "unusual" for the president not to be meeting with these leaders — also adding: "Certainly this friction with Netanyahu is unusual and symbolic, I think, in some ways of the tension that's existed."
Later, asked to comment on the recent news about CNN using information from fallen ambassador Chris Stevens' diary in their reporting, Tapper admitted the situation is "a little murky" — but went on to make a different point.
"Those people in power who don't want to talk about the security failures at the compound are more eager to talk about CNN and their reporting practices…than they are in talking about what I think is probably a much more consequential question," Tapper said, "which is: Why was security so bad? Were there intelligence failures? What is going on in the Middle East right now in terms of how prepared the U.S. is for incidents like these?"
That prompted Van Susteren to segue into a discussion about the White House's relationship with the press now, compared to past administrations. Unwilling to draw a comparison (citing his lack of firsthand experience) or don the media critic cap, Tapper noted it's "imperative" the press ask tough questions to those on both sides. Van Susteren nonetheless pressed, asking for a comparison of the White House's accessibility to the press in the past and now. Tapper didn't pick sides, further adding that, in general, "White Houses respect reporters that ask tough questions as long as they're fair and impartial in their coverage."
Take a look, via Fox News:

Have a tip we should know? tips@mediaite.com