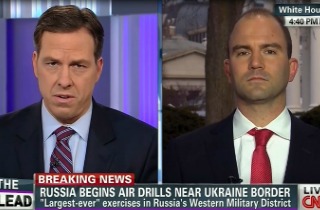 CNN host Jake Tapper interviewed White House Deputy National Security Advisor Ben Rhodes on Thursday about the ongoing crisis stemming from a Russian invasion and occupation of the Crimean Peninsula in Ukraine. Tapper informed Rhodes that regional observers and analysts largely believe that the Crimea is "lost" to Russia.
Tapper began by playing "devil's advocate" and asked Rhodes if the West and the United States were frustrating the wishes of the Crimean people who broadly appear supportive of Russia and may not object to being absorbed by the Russian Federation.
"The referendum that was put forward today violates the Ukrainian constitution. It is not legitimate," Rhodes replied. "You cannot make decision about a region without the government in Kiev being a part of those discussions."
RELATED: John Kerry Shocked by Putin's Claim No Russian Troops in Crimea
"A lot of people in Crimea want to be part of the Russian Federation," Tapper countered. "I don't understand why this would be something that the United States would say it is unfair, unconstitutional, violates – I mean, the constitution in Ukraine adopted in 1996. It's not like it's this age-old document."
Rhodes said that the U.S. understands that Russia has "legitimate" interests in Crimea, but those interests do not include a military occupation of Ukrainian territory.
"Well, it appears like Crimea is lost," Tapper observed. "I think a lot of individuals think that Crimea is basically gone at this point."
Watch the clip below, via CNN:
[Photo via screen grab]
— —
> >Follow Noah Rothman (@NoahCRothman) on Twitter
Have a tip we should know? tips@mediaite.com