Jake Tapper Tries, Fails to Get WH Adviser to Promise Obamacare Will Be Ready for Deadlines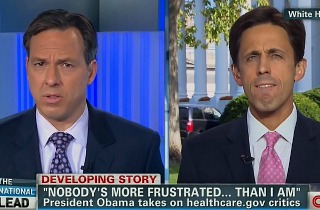 On Monday, White House Deputy Senior Adviser for Communications and Strategy David Simas joined CNN host Jake Tapper on The Lead to respond to criticism about the implementation of the Affordable Care Act. Tapper pressed Simas to promise that the ACA's user portals will be bug-free before either of the looming deadlines to measure the program's success. Simas initially evaded the question before reassuring Tapper that people who need health insurance will get health insurance.

Simas began by blaming the ACA's problematic roll-out on the volume of users. Tapper refused to accept this line of argument.
"You're not still saying that it's just a volume question, right?" Tapper asked.
"What I said was the initial problem was driven by volume," Simas replied. "Not enough folks are going through and applying. Too many people are being held up. We've got a tech surge throughout the process right now to determine where there are bugs, where there are glitches, to identify them, to isolate them and to fix them."
RELATED: President: Obamacare 'Not Just a Website,' and Despite Glitches, 'The Product Is Good'
Tapper asked if the site will be fixed before the December 15 initial deadline for people applying to have coverage begin on January 1 and the final deadline for when the open enrolment period ends on March 1, 2014.
Simas replied by noting that the website will continue to improve and that there are presently multiple portals for users to enroll in the ACA.
Tapper informed Simas that his question was not answered.
"Yes," Simas said. "Between the website and all of the other ways that people have to sign up…"
"That wasn't really the question," Tapper interjected.
Simas reiterated his insistence that the variety of ways in which users can get health insurance ensures that they "will" get health insurance by at least one of those means.
Watch the clip below via CNN:
[Photo via screen grab ]
— —
> >Follow Noah Rothman (@NoahCRothman) on Twitter
Have a tip we should know? tips@mediaite.com