Jake Tapper Warns Obama Supporters To 'Remember The Precedent' He's Setting When A GOP'er Is In WH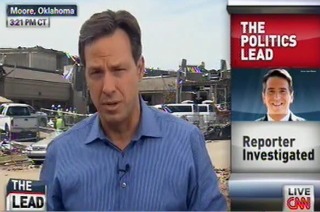 On Wednesday, CNN anchor Jake Tapper dug into the controversial way in which members of President Barack Obama's administration have apparently tried to intimidate whistleblowers in the government and the journalists that would investigate their stories. Tapper said that some, including the New York Times editorial board, have described the administration's actions as "threatening fundamental freedoms of the press." He warned Obama's supporters to remember the precedent his administration is setting when a Republican next occupies the Oval Office.

Tapper noted that the scandal surrounding the subpoenaing of Fox News reporter James Rosen's personal telephone and email records is sarcastically being referred to as a "conspiracy to commit journalism."
"Keep in mind, there's no allegation that James Rosen bribed, threatened, coerced anyone to get the information, which is what journalists do," Tapper said. "We try to get information, especially information that the government doesn't want us to share with you."
RELATED: Washington Post's Opinion Leaders, NY Times Editorial Board Turn On Obama Over Intimidation Of Reporters
He noted that the Times editorial page, normally supportive of Obama, accused his administration of going "overboard" in the effort to intimidate leakers and journalists.
"I'm a journalist," Tapper confessed. "Obviously, I have a bias here. But even if you side with this president over those of us in the media who challenge his administration, it is important to remember the precedent these actions set going forward. Perhaps, when it's not your guy in the White House."
Watch the clip below via CNN:
h/t CNN
> >Follow Noah Rothman (@NoahCRothman) on Twitter
Have a tip we should know? [email protected]