Jake Tapper's Panel Guests Battle Over Dead Assault Weapons Ban: 'We Knew From The Start' It Wouldn't Pass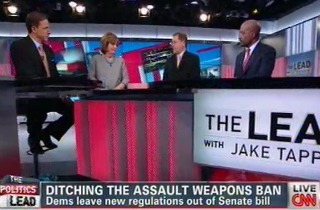 A panel discussion on CNN's The Lead Wednesday examined the apparently stalled negotiations in Washington regarding new gun control measures that may be adopted in the wake of the Newtown shootings. One panel guest, a reporter for USA Today, said that it was clear "from the start" that a new assault weapons ban was a stretch and would never pass Congress. She said it was, however, lamentable that virtually no new gun laws could pass the Republican-controlled House.

RELATED: Morning Joe Spars Over Reid Dropping Assault Weapons Ban: Country Becoming 'More Progressive' On Guns
CNN host Jake Tapper played a portion of an interview he conducted with House Speaker John Boehner (R-OH) in which the Ohio Republican expressed his sadness over the massacre of teachers and students in Newtown, Connecticut. The Speaker said that he believes the Department of Justice should enforce the laws currently on the books in order to prevent future mass shootings.
"You can see from Speaker Boehner's comments how hard it's going to be to get anything through the Republican-controlled House – even the most modest measure," said Washington bureau chief for USA Today, Susan Page. "The idea of an assault weapons ban, we knew from the start that that was not something that was going to be enacted into law."
"I just think it's heartbreaking," said former White House advisor Van Jones. "These are not controversial measures and yet, somehow, D.C. can't get it done." Jones advised Democrats in Congress to go ahead and "have this faceoff with the NRA" and not to cater to the vulnerable Democrats who face reelection in 2014 who would prefer not to have to vote on new gun laws.
"You want to do something that's useful," said President of Americans for Tax Reform, Grover Norquist. "One of the things that irritates gun owners is you hear press guys talk about semi-automatic as if it meant 'sort of automatic.' Instead, what it means is not automatic."
"These are not assault weapons. That's why they call them 'assault style,'" Norquist continued. He blamed Democratic legislators in blue states for refusing to make it easier to share information about mentally incompetent or unstable individuals who should not be allowed to purchase firearms.
"Republicans use the issue of mental health – which is a real issue – to avoid talking about the other gun control measures," Page interjected. "I mean, it's really diversionary I think."
Watch the clip below via CNN:
> >Follow Noah Rothman (@NoahCRothman) on Twitter
Have a tip we should know? tips@mediaite.com