Jake Tapper's The Lead Bursts With Potential, But Marred By Forced Pop Culture Segments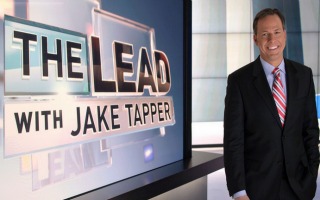 CNN's new program, The Lead, hosted by the abundantly capable and respected newsman, Jake Tapper, debuted on Monday to a flurry of excitement among politically savvy news consumers. Tapper, virtually a household name among the former group, was regularly grilling the president and prominent political figures before he became a CNN host. The expectations were extremely high for Tapper's debut – perhaps too high. And while the host met those expectations in his role, something about the new show was unsettling. The program's format imposes an unnecessary burden on Tapper to be something – or someone — he is not: Ryan Seacrest.

RELATED: Stephen Colbert Gives Jake Tapper Advice On His CNN Debut: 'Don't Get Sucked Up In That Whole News Thing'
Combining the bygone, in-depth features of a newsmagazine program with fast-paced headline news bulletins, The Lead is a truly innovative program. The show's powerful and appealing graphics, no-frills intros and outros, stunning set, and excellent correspondents – like former Real Clear Politics reporter Erin McPike – indicate that The Lead has a bright future ahead. The show has all the makings of a marquee brand for CNN.
Where Tapper's show excels is when it allows the host, an accomplished interviewer and reporter with a depth of background knowledge nearly unrivaled in his industry, to focus on the subjects which are second nature to him. Global politics and issues of strategic relevance, national politics, international events, and interviewing the newsmakers of the day; these are the topics which allow Tapper to shine.
The Lead's lineup of guests over the last two days have been stellar. Bursting out of the gate with guests like Comedy Central host Stephen Colbert and New York City Mayor Mike Bloomberg on his first program, Tapper showcased his range as an interviewer. On day two, Tapper interviewed Sen. Marco Rubio (R-FL), New York Times statistical analyst Nate Silver, and White House Chief of Staff Denis McDonough.
It was Tapper's interview with McDonough that provided a window into why the former chief White House correspondent for ABC News was such a solid hire for CNN:
Tapper's McDonough interview made news when he forced President Barack Obama's White House Chief of Staff to acknowledge that the president would like to see a version of an assault weapons ban be put to a vote in the Senate. This occurred just hours after Sen. Harry Reid (D-NV) blocked a vote on an AWB proposal fraught with political perils for the class of Senate Democrats up for reelection in 2014.
Tapper's acumen as an interviewer was also showcased when, seemingly off the top of his head, he challenged McDonough's assertion that the president would not guess at how likely a military conflict in the Korean Peninsula was in the near future. Tapper said that the administration was keen on touting the statistical potential for the raid on Osama bin Laden's compound to fail – statistics which buttressed the administration's claim that the raid was a particularly "gutsy call."
The Lead does, however, feel more than a little forced when Tapper engages in his sports, fashion or pop-culture segments. On Tuesday, the host promoted a Twitter hash tag game in which viewers of The Lead could submit their funny slogans for the clothing manufacturer Lululemon after they were forced to recall a popular line of yoga pants due to the translucency of the material used.
The possible influence of CNN President Jeff Zucker or other CNN execs on the direction of Tapper's program, away from hard news and onto eyeball-grabbing pabulum, diminishes the stature of The Lead and its host. Whether, as he claims in his show's promos, Tapper enjoys those daily departures from the domestic or international political story of the day, these segments have the feel of a contrived thematic estuary intended to ease the viewer from CNN's dayside panel debates about whatever is gracing Yahoo!'s front page into Wolf Blitzer's gritty The Situation Room. They are unnecessary and unsatisfying.
The Lead debuted on CNN behind both MSNBC's Martin Bashir and Fox News Channel's Your World with Neil Cavuto in total viewers. In the demo, Tapper was also narrowly edged out with 87,000 viewers to Bashir's 100,000 and Cavuto's 172,000. These are ratings that CNN will have to reverse and quickly. Hopefully, the network's programmers will not instinctively lean more on pop culture references and interviews with figures that enthrall People Magazine's audience.
Let Jake Tapper be Jake Tapper, CNN. Presumably, he was hired for his news sense and his encyclopedic knowledge of the political landscape. Right now, this show has a schizophrenic feel, but it could be spectacular. Here's hoping CNN knows how to market and brand the talent they have in their 4 p.m. block.
> >Follow Noah Rothman (@NoahCRothman) on Twitter
Have a tip we should know? tips@mediaite.com