James Cameron Finds Journalistic Value In His Potential Work In The Gulf Oil Spill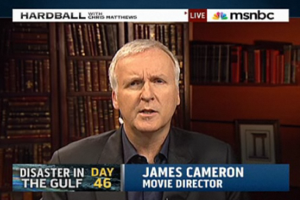 After his offer of help was rejected by the authorities in charge of the Gulf oil spill, director James Cameron is making the case for why he can help. At the very least, he is trying to prove everyone who said "huh?" wrong by proving his expertise in underwater filming and comparing his work to the journalism done on the shores of the Gulf.
Cameron was on Hardball yesterday to talk to Chuck Todd (filling in for Chris Matthews) about his disappointment that he would not be allowed to film the underwater goings-on in the Gulf of Mexico, on fear that his crew would distract BP's efforts to plug the leak. During his filming of the blockbuster Titantic, as well as work elsewhere, he acquired experience filming in precarious situations underwater, and, speaking to Todd, proved he is intimately familiar with the technology.
His main concern, however, is that the only feeds showing what is happening underwater are being directed by BP– or, as Cameron put it, we "are getting the crime scene video done by the criminal." Instead, he offered, he could give the government independent footage of the Gulf that would help show, besides the force with which oil is gushing out, whether there are underwater oil plumes BP has yet to show and a broader view of the destruction of wildlife there.
Asked if he thought he would be in the way of efforts delaying them, he countered that this was an argument often used to exclude journalists from covering events, "and we don't do that. We say the American public has a right to know… the government needs its own information."
Video of the interview below:

Have a tip we should know? tips@mediaite.com