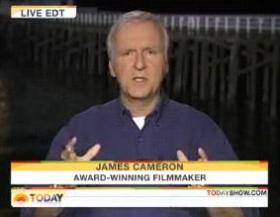 Legendary director James Cameron has been one of the most vocal members of the film community during the BP oil spill clean-up process, even last week assembling a team to independently come up with some ideas.
But he says he was quoted out of context when he called the BP execs "morons" for turning down his help.
This morning, Cameron was live from Malibu on the Today show to explain the greater context of calling them "morons." He said "that's where I started" in his thinking, but after he "got into it with this team of experts," he realized that the "morons" were actually doing the best they could in a very difficult situation. Or as Cameron put it: "They can actually make this worse. I know its hard to imagine."
That doesn't mean Cameron and his group are giving up – now they'll give their advice directly to the media (Today show this morning, Larry King in a prime time exclusive tonight!). What would he do if he was in charge today? "Our groups recommendation is to go back to the top kill type of process where you get heavy oil drilling mud down the well, build up some hydrostatic pressure," said Cameron. If BP watches the Today show, they'll hear the director's take anyway.
Cameron also expressed concern that the only images coming from the Gulf spill are from BP's cameras, and our government should employ their own set of cameras down there. Out of all the coalition, Cameron has certainly been the most vocal. And after immersing himself in underwater research for Titanic, he knows what he's talking about (at least to some degree).
Until BP wants to invite Cameron to the table, he'll take his story to the media, which is more than willing to give the celebrity director the airtime and platform he desires.
Here's the Today interview:


—–
» Follow Steve Krakauer on Twitter
Have a tip we should know? tips@mediaite.com