James Carville 'Frightened' By Failure Of Health Care Bill, Midterm Elections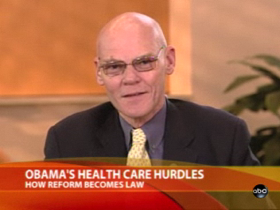 Perhaps it was too early in the morning, or something about being reunited with old pal George Stephanopoulos made him feel open to being emotional, but James Carville looked uncommonly vulnerable today discussing the 2010 midterm elections and health care reform on ABC's Good Morning America. Joining Stephanopoulos and former Bush strategist Matthew Dowd, Carville revived the Sen. Jim DeMint's term "Obama's Waterloo" and admitted to feeling "frightened" and believing some of the hype that "Democrats can't govern."
Stephanopoulos began the discussion by pointing out that Speaker Nancy Pelosi has said she is confident that there will be Democratic victories in the November elections in Congress: "I'm glad to hear she's confident…but the math is pretty daunting."
This is about as positive as Carville sounds throughout the entire discussion regarding his party's chances. More shocking, however, is that it is not only his faith in the success of the party that has waned, but his belief that the Democrats are capable of governing at all:
If [health care reform] goes down, it's going to be a simple statement: the Democrats can't govern. They came in with a majority promising health care, and they came away with nothing. How can you trust them to do anything else? And I have to tell you, as a Democrat, that frightens me.
James Carville has always been one of the most consistently honest members of the American left, both to himself and his party. He's no Terry McAuliffe – he'll tell it like it is, even to his side of the aisle. Still, watching him today has to be jarring for Democratic strategists and public officials alike.
Here's Carville on Good Morning America:

Have a tip we should know? tips@mediaite.com