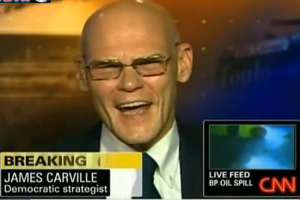 As a follow-up to Wednesday night's interview with BP Managing Director Bob Dudley, last night Anderson Cooper had Democratic strategist James Carville and presidential historian Douglas Brinkley and, shockingly, Carville seemed to be more upset with the Obama administration than BP over their handling of the Gulf oil spill, calling them "naive" and noting that their behavior was "lackadaisical," as if they were merely "inconvenienced" by the disaster.
Asked about the EPA's latest request for BP to use less toxic dispersants, Carville was fuming, though not, as expected, at BP, but at the EPA and the Obama administration for being too trusting of the oil company. "They think that BP has some kind of good motivation here," he commented. "They're naive… somebody has got to, like to shake them and say 'these people don't wish you well! they're going to take you down!'"
His stance that the Obama administration was acting out of naivete, however, didn't stand for long, as he later accused the White House of going along with the BP plan because they saw the disaster as a mere "inconvenience" and preferred to forget about it and hope it goes away:
"I'm as good a Democrat as most people, and I think this administration has done some good things. They are risking everything by this 'go along with BP' strategy they have that seems like, lackadaisical on this, and Doug is right, they seem like they're inconvenienced by this, this is some giant thing getting in their way and somehow or another, if you let BP handle it, it'll all go away. It's not going away. It's growing out there. It is a disaster of the first magnitude, and they've got to go to plan B."
Those are pretty harsh words from, as Carville put it, "as good a Democrat as most people" (though most people would probably say "a little better"). Given the proximity of the one-month anniversary of the tanker explosion coming up and yet no sign that BP is any closer to capping the leak, backlash towards both BP and the Obama administration is to be expected. Just not from one of the most loyal Democrats on TV.
Video of the segment, edited to put together all three segments where Carville gave commentary, below:

Have a tip we should know? tips@mediaite.com