James Carville: Obama Has 'Been Misled By Advisers… Somebody's Head Has To Roll"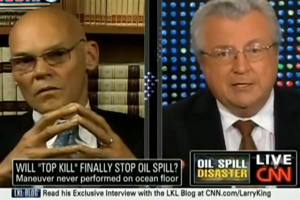 As a native Louisianan, James Carville has been affected more than most TV pundits by the seemingly interminable Gulf of Mexico oil leak, and he has been appearing regularly on CNN pleading with President Barack Obama to become more involved in the efforts to stop it. Tonight on Larry King Live, Carville didn't seem as upset with the Obama administration as before, but, rather, concerned for the President, who he says has been misled and, having the power to make a signficant difference, has not done so.
Asked how the story would end, Carville had two words for Larry King: "grand jury." He admitted that he didn't see an end to offshore drilling anytime soon– "I'm all for alternative energy, but we're not going to do that overnight"– but that it was unsustainable giving the lack of oversight under which oil companies currently operate.
As for this specific disaster, rather than the issue of offshore drilling as a whole, Carville argued that "the American people need to see people in shackles go to jail" because of the intensity of the damage. As for his previous comments that the Obama administration seemed "inconvenienced" by the oil spill, he appears to have softened his stance, noting that the oil spill could be something incredibly positive for the President if he only did something about it, starting with firing some of the people who have directed him as of now:

"This could be a great success for the President… he can take charge of this. He can hold people's feet to the fire. He can marshall resources. He can heal people's feelings. He can explain to the nation what when on. He can do that. But he's been misled by advisers. He needs to fire some people… When you have a screw-up of this magnitude, somebody's head has to roll."
Carville's talk with Larry King below:

Have a tip we should know? tips@mediaite.com