Carville Trashes CPAC: 'Any Day You Have More Palin And Less Christie Is A Good Day'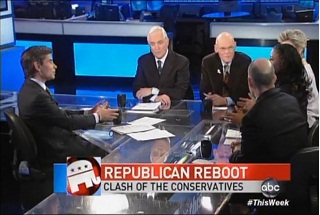 Governor Chris Christie's exclusion from CPAC brought about an opportunity for the This Week panel to roundly criticize the conservative confab's exclusion of the very popular moderate Republican governor.
Democratic strategist James Carville was the most outspoken of the guests on George Stephanopoulos' panel, saying that the exclusion of Christie is "unhealthy."
"I think this one is somehow another one that's particularly hard for the Republicans and they like are mad at each other right now to me in an amusing way but if i were a Republican, almost an unhealthy way. They're really lashing out at each other and blaming back and forth every day. The Club For Growth story was kind of my idea for a significant story that they're really going after — naming the people they're going after right now which, of course, is gonna have a chilling effect on other Republicans who think they may be up," said Carville.
"CPAC to me has totally diminished its credibility as an organization. When you basically, Chris Christie s a national leader, and their explanation about why, the next day about why…It's like an All Star Game, they said he didn't have a good year," said Matthew Dowd, a frequent This Week panelist and Republican strategist.
"They invite Sarah Palin who wasn't competent enough to keep a Fox News contract? But she's invited to a CPAC meeting? I mean to me, they basically, many people, Karl and many people, decided that the voters out there don't know what they're doing. That the votes who like Chris Christie, and the votes who like other candidates, they're really mixed up and we're going to tell them what the truth is. And whatever that's a strategy on either side, when you're trying to tell the voters they're wrong, it's a bad move," said Dowd.
Former Utah Congressional candidate Saratoga Springs Mayor Mia Love halfheartedly defended CPAC saying that they're a private
organization and that Christie probably isn't hurting for speaking events. Love did call for a "healthy debate" between Republicans.
Carville got the last laugh, of course, saying,"Any day that you have more Sarah Palin and less Chris Christie is a good day for James Carville."
Watch the clip below via ABC
Have a tip we should know? tips@mediaite.com