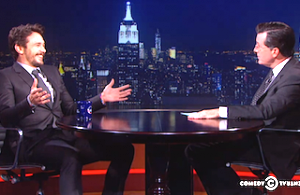 James Franco sat down for an interview on The Colbert Report Wednesday night that covered everything from his pending Ph.D in English, the seriously creepy movie he just directed called Child of God, and his unexpected photo bomb in Stephen Colbert's family Christmas card. But it was the final moment of the segment that really stood out, when Franco committed the cardinal sin of breaking the fourth wall, asking the host if he is going to "go Democrat" when he takes over for David Letterman next year.
"Now here's the interesting thing, I don't know what the fuck you're talking about," Colbert said in response. All Franco could do was laugh.
He has been very careful to keep the character of "Stephen Colbert" that hosts The Colbert Report separate from the actual Stephen Colbert who will host the Late Show on CBS after Letterman steps down. When he did briefly address the matter on his show back in April, he would only speak of Letterman's replacement in the third person: "I do not envy whoever they try to put in that chair. Those are some huge shoes to fill."
RELATED: 6 Times Stephen Colbert Has Appeared Out of Character in the Media
It has been widely understood that when Colbert moves to CBS, it will be as himself and the conservative character he has been embodying for an incredible 9 years will go into semi-official retirement. Franco's question was a salient one: Will Colbert's "true" left-leaning politics come through on the Late Show? Or will he strive for a more neutral approach?
After Rush Limbaugh claimed that Colbert hosting the Late Show meant CBS had "just declared war on the heartland of America," CBS head Les Moonves said he was not concerned about the host's politics.
"Ironically, Stephen Colbert is much more moderate than people think he is," Moonves said. "He's a great social commentator, and that's sort of what we want. That's sort of what David Letterman has been."
Watch video below, via Comedy Central:
[Photo via screengrab]
— —
>> Follow Matt Wilstein (@TheMattWilstein) on Twitter
Have a tip we should know? tips@mediaite.com