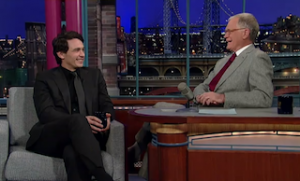 From critically panned Oscar host to critically panned Oscar host. After everyone declared this year's Oscar ceremony "the worst thing in the history of everything ever" during the annual drudging, everyone was curious to see what co-host James Franco would say. After all, for many people, he was the main whipping boy. Who better to get the post mortem than David Letterman who had his own awkward dalliance with the awards show as well?
In the clip from tonight's Late Show, Letterman gets right down to business, asking Franco why people thought he was stoned. Franco came up with the perfect answer; anyone would look stoned next to the big ball of energy that is Anne Hathaway. Now that is something I can believe.
He also had this great observation:
"I never dreamed of being the best Oscar host ever. It was never on my list of things to do. That doesn't mean I didn't care and it doesn't mean I didn't try hard, right? But here's the hypocritical thing; Leading up to the Oscars, I couldn't hear enough about how, 'Oh, people don't care about the Oscars anymore, it's dead, it's boring, it'sat the end of a long award season. Who cares about it?' Well, as soon as you don't host the way they want you to, they suddenly care and they won't shut up about it!"
Letterman responded with some advice from someone who knows.
"I can tell you what will happen. For you, there will be a modicum of embarrassment, which you shouldn't feel. That will pass, you'll go into a period of numbness, and then you'll feel, rightly so, defiant."
I'm not sure, but it kind of sounds like Franco's already there.
Check out the clip from CBS below:
Have a tip we should know? tips@mediaite.com