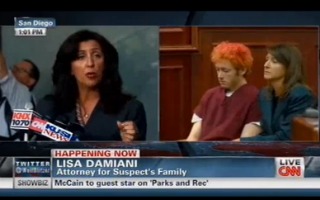 The family of suspected Colorado shooter James Holmes addressed the media via their attorney, Lisa Damiani, at a press conference in San Diego, California. Damiani took the time to specifically note that the Holmes family will not be discussing their relationship with their son.
Damiani explained Colorado's legal process for this case, describing it as "a significant case for a lot of people" and stressing that it should ultimately "be tried in the courthouse, in the courtroom, and not in the media."
RELATED: Watch: James Holmes' First Court Appearance
She also made sure to clarify that ABC's original report regarding Holmes' mother had been incorrect. (Mediaite, it should be noted, was one of several outlets to feature ABC News' report Friday morning.) ABC News' apparent scoop was worded to reflect that Holmes' mother, when contacted by an ABC reporter in the hours after the shooting, had said that her son was the "right person." This had been incorrect, said Damini, and Holmes' mother had been, in fact, referring to herself:
To clarify a statement made by ABC media, I was awakened by a call from a reporter on ABC on July 20, about 5:45 in the morning. I did not know anything about a shooting in Aurora at that time. He asked if I was Arlene Holmes, and if my son was James Holmes, who lives in Aurora, Colorado. I answered, 'yes, you have the right person.' I was referring to myself. I asked him to tell me why he was calling, and he told me about a shooting in Aurora. He asked for a comment. I told him I could not comment because I did not know if the person he was talking about was my son, and I would need to find out.
With that said, Damiani relayed that the Holmes family wanted to reiterate that their heart goes out to the shooting victims and their families during this time.
UPDATE: ABC News is standing by their original report and the producer who spoke to Holmes' mother says they did not take her remarks out of context.
Have a look, via CNN:
Have a tip we should know? tips@mediaite.com