James Lipton Critiques Eastwood's Speech: Obama 'Incapable' Of Uttering Such Vulgarities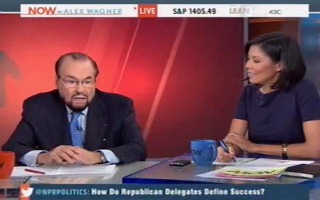 The host of Inside The Actor's Studio, James Lipton, appeared on MSNBC with Alex Wagner on Friday where he offered a strong criticism of Clint Eastwood's Republican National Convention speech. Lipton said that Eastwood gave a weak performance and, worse, he was disrespectful to the office of the presidency in a way that he could not recall having a historical parallel.

RELATED: Clint Eastwood Gives 'Invisible Obama' The Best Lines Of His Performance Art Speech
Lipton told Wagner that he was friends with Eastwood and praised him as an actor and director, but he had to confess that he found Eastwood's speech to be "not his best performance."
Lipton said that Eastwood, improving his speech, gave President Barack Obama the worst lines of the speech. "A couple of vulgarities," said Lipton of the lines Eastwood gave Obama. "A word we can't utter here, of course, and shouldn't have been uttered there."
"In my opinion, Obama is incapable of saying 'shut up' and 'go blank yourself,' and is capable, in fact, of uttering much more eloquent and proper replies," said Lipton. "He was not given that opportunity; the words were put in his mouth. They were vulgar and, worse, they were disrespectful."
"I can remember a number of Presidential campaigns where presidents running for reelection were not treated quite this disrespectfully," Lipton lamented.
Watch the clip below via MSNBC:
> >Follow Noah Rothman (@Noah_C_Rothman) on Twitter
Have a tip we should know? [email protected]