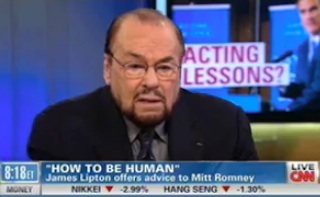 Host of Bravo's Inside The Actor's Studio James Lipton stopped by CNN's Starting Point on Friday and gave presumptive Republican nominee Mitt Romney some lessons in "acting human," taking issue with the candidate's mannerisms and wardrobe.
"Look, humor is based on shared perception," Lipton began. "What do you say when you hear a joke? I get it. I understand it. So there has to be shared perception. There's very little sharing going on. He's too busy working. He's working the crowd and I remember once, a director said to an actor on the stage and the actor was working hard and director said, hey, relax, you got the job. And now that he's almost got the nomination sealed, signed and delivered, I would advise him: Relax."
"And you don't like his wardrobe," Brooke Baldwin continued.
"Well, it's a mash up. It's bowling alley and country club," Lipton quipped.
"His blue jeans are carefully creased. On top is a jacket that cost him a fortune. It doesn't match. It isn't just that it's not Mitt Romney, it's not anybody," he said. "And he's clearly been instructed and told to give a performance which he's doing. And leaving his politics aside whether one loves him or does not, that's not working. It's like for me watching a bad acting performance is like a fingernail on a black board."
Co-panelist Margaret Hoover asked Lipton whether "really good acting and connecting with people the way you're describing" could be learned.
"You know what you have to connect with when you're acting? Want to guess? Yourself," Lipton explained. "We teach our actors to be in touch with the marrow of their bones and inner souls and when you see a great actor doing it well, what's happening is they really are in touch — they are living in the moment."
Watch Lipton give Romney "being human" tips below, via CNN:

Have a tip we should know? tips@mediaite.com