James O'Keefe On CNN: My Priority Is To Go After What 'The Media Is Refusing To Touch'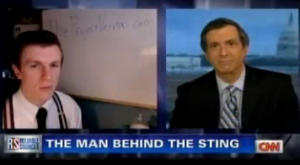 James O'Keefe, the self-described investigative journalist behind the NPR sting video, appeared on Reliable Sources and told Howard Kurtz that he was motivated to look into NPR after they improperly handled the firing of former contributor Juan Williams. Kurtz questioned whether O'Keefe's journalism tactics were unethical, but O'Keefe argued his form of investigative reporting was necessary to seek and find the truth.
O'Keefe admitted he did not have a lot of respect for the mainstream media and concluded:
"Reporters do a lot of stenography in this country. They do a lot of damage control. They do a lot of punditry. But real investigative reporting is showing things for what they are."
Also when Kurtz wondered whether O'Keefe will only go after liberal targets, O'Keefe promised he is only getting started and that his political philosophy is much broader. O'Keefe suggested "big business and big government are scheming together to hurt Americans" and that so far his priority is "to go after subjects, right now, that the media is refusing to touch."
Oddly, Kurtz appeared to give O'Keefe a pass and failed to make clear the level of journalistic fraud involved in his Acorn sting. Kurtz also strangely softballed O'Keefe on the failed Abbie Boudreau prank in which the "film maker" tried to get the CNN anchor on a boat filled with sex toys. While Kurtz asked him about it, he didn't follow up in the manner that a media critic might hope.
Update: Howard Kurtz responds through Twitter why he didn't bring up with O'Keefe how the editing of his NPR tapes were "questionable" and "deceptive":
"I didn't ask James O'Keefe about the Blaze unfair-editing piece because I didn't see it until after we taped the intv Friday."
Watch the clip from CNN below:

Have a tip we should know? tips@mediaite.com