James Taylor Explains Support For 'Wonderful' Obama: 'I Really Suffered' Under Eight Years of 'Cheney/Bush'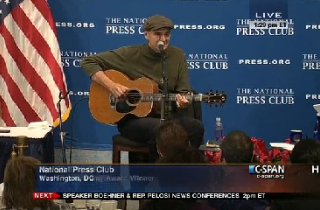 Winter, spring, summer, or fall… all President Obama has to do is call. And James Taylor will be there. Yes, he will.
During a speech and performance before a National Press Club luncheon on Friday, outspoken liberal musician Taylor explained his unyielding support for President Obama, giving a lot of credit to how much the musician personally "suffered" under eight years of Republicans "Cheney/Bush" in the White House.
The luncheon topic was focused on "election reform," but as CNSNews reports, the five-time Grammy winner mostly spoke about his political activism and what inspired him to be involved with both of Obama's election campaigns.
After experiencing two Obama electoral victories, the "Fire and Rain" singer said his faith in America has been "restored" because of the "wonderful" and "real" person voted into the White House.
He explained his reasons for backing Obama as such:
"I was hugely motivated also by eight years of Cheney/Bush, and I say it in that order on purpose. It was a tough time for me. I really suffered. It made me deeply ambivalent about my country — that we would choose that, even if we may not have chosen it. But that that's what represented us in the world. I felt as though after September 11, the diversion, the distraction of the nation's concern and energy into Iraq was unpardonable. I felt that it was inept, corrupt and opaque. Those were tough years for me. And I was very deeply motivated in 2008 to see Barack Obama — this wonderful, sort of a surprise, really. I couldn't believe our luck that we had gotten such a real person as to make it through the filter system of our politics."
Later during the event, however, Taylor took a swipe at his own ideological kin, explaining that it is important to engage in a civil dialogue with conservatives because, if left unchecked, "liberals would probably steer us toward a sort of paralyzed nanny state in the European style."
Watch below, via C-SPAN

[h/t
NewsBusters
]
— —
>>
Follow Andrew Kirell (@AndrewKirell) on Twitter
Have a tip we should know? tips@mediaite.com