Jan Brewer Hammered In Press Conference For Claiming Victory After SCOTUS Ruling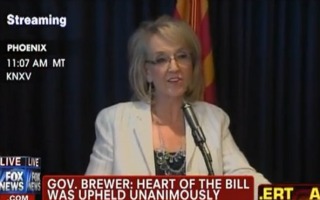 Arizona's Republican Gov. Jan Brewer was hammered on Monday during a press conference where she defended Arizona's controversial immigration enforcement law, Senate Bill 1070, after most of the law was struck down by the U.S. Supreme Court. Brewer was hammered by a skeptical press corps that repeatedly asked how the court decision that overturned most of the law could somehow be a victory for Arizona and her administration.

RELATED: President Obama, Gov. Jan Brewer Declare Victory After SCOTUS Ruling On Immigration Reform
"The full court, with the exception of Mr. [Antonin] Scalia, said, 'no, you can't do that,'" one reporter asked. "How do you defend having declared that constitutional two years ago only to have the high court slap you?"
"Well, today, the state of Arizona and Senate Bill 1070 was vindicated," Brewer replied. "And the heart of the bill was upheld. Unanimously."
Another reporter asked how Brewer thought the portion of the bill that was upheld can be effective given so many of the enforcement mechanisms were struck down by the high court and the federal government is balking at enforcement.
Brewer responded that the federal government can be assisted by local law enforcement when enforcing immigration laws.
"What's the point," a reporter followed up pointedly. "So you stop, you determine somebody's illegal – ICE says, 'so what?' So you let them go. So you've accomplished nothing."
"I believe that we've accomplished a lot," said Brewer. "In that it was upheld by the United States Supreme Court and that we will move forward instructing law enforcement to begin practicing what the Supreme Court has upheld."
Brewer said that, even though S.B. 1070's Section 2 was upheld, which allows for law enforcement to check the citizenship status of those suspected of being in the United States illegally, she expects there to be future law suits to challenge that provision.
Watch the press conference below via Fox News Channel:
> >Follow Noah Rothman (@Noah_C_Rothman) on Twitter
Have a tip we should know? tips@mediaite.com