Janitor Fired Over Pro-Scott Walker Sign Speaks Out: Liberals 'Cannot Push The Public Around'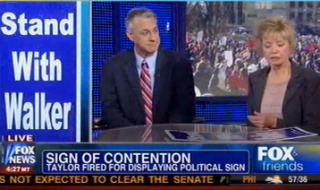 You may have heard the story of the high school janitor who lost her job over a sign on her car expressing her support for embattled Wisconsin governor Scott Walker. Well, that custodian, Mary Taylor, visited Fox & Friends Friday morning along with her lawyer to discuss whether this was in violation of her rights.
Taylor recounted the two options her boss had given her: "She told me that I was to take the sign out of the back window and put it on the floor of the car or I could park across the street."
She refused to take the "Stand With Walker" sign down, pointing out that many other teachers had placed anti-Walker bumper stickers on their cars, apparently with no repercussion.
RELATED: Wisconsin Governor Scott Walker Addresses Recall Efforts On Fox News
Her, lawyer, Tom Simon, said that "the school district obviously claims that they had nothing to do with this, that this was her private employer that did this. But, clearly, in the information that we're gathering, there were reports from teachers complaining about it. That moved up a little bit and eventually it came to her supervisor who said 'you're done.'"
When host Steve Doocy asked Taylor whether or supervisor may have had a political agenda, Taylor responded that her boss' daughter was a teacher. "Don't you think that's a coincidence?" he joked.
Taylor, who is currently unemployed, later shared what she hopes to obtain moving forward:
Justice for me is just to hopefully let people know that liberal school teachers and liberals in general cannot push the public around when they have different opinions other than theirs.
Have a look, via Fox News:
Have a tip we should know? tips@mediaite.com