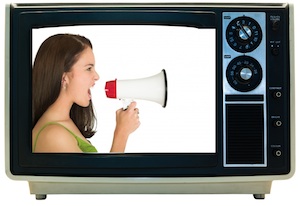 It's time to take another compelling journey into the realm of monthly cable news ratings through the oh-so-rosy lens of the network's publicists. What can you expect? Cleverly-crafted bullet points from the MSNBC, CNN, and imaginary* Fox News number-crunchers, all doing their best to somehow make Nielsen's month-end ratings look as if, yes, everybody won!
*(We imagine because Fox News does not send out ratings press releases.)
Did they really win? It all depends on who you talk to. But we can at least help parse the numbers and give a clearer picture of what really happened. Let's start with MSNBC…
MSNBC's Headline: MSNBC BEATS CNN IN TOTAL DAY FOR JANUARY 2012
Their takeaway?: We beat CNN! Yaaaay!!
Throughout the entire day, MSNBC topped CNN in total viewers, and its stable of shows beat its CNN counterparts in a decent amount of head-to-head match-ups, including Hardball with Chris Matthews. PoliticsNation with Al Sharpton, and The Rachel Maddow Show.
What's not being said?: See the next line…
CNN's Headline: CNN TOPS MSNBC IN PRIMETIME
Their takeaway?: We beat MSNBC! Yaaaay!!
The numbers don't lie: CNN toppled MSNBC in primetime. Furthermore, AC360 saw significant gains at both 8 p.m. and 10 p.m., and Erin Burnett's ratings rose at 7 p.m. (while the program's re-air beat The Ed Show at 11 p.m in the 25-54 year-old demo).
What's not being said? CNN's ratings came primarily from the network's hosting of two debates in January (MSNBC didn't host any). In fact, MSNBC's release noted that, if you exclude CNN's debates, they topped CNN in total viewers. However, the argument against that is the fact that ratings are ratings. You can't fault CNN for holding the two debates, and there's a large amount of effort involved in hosting and producing those events.
Fox News' Headline: (Our Best Guess since they don't do Press Releases): WE NOW MEASURE OUR SUCCESS IN DECADES, NOT MONTHS
Their (theoretical) takeaway?: Think you're having a nice month? Fox News hasn't dropped out of the top spot since Mitt Romney was just some dude running the Olympics.
What's not being said?: There's not much to really stomp on here. Fox News has been the top-rated cable news network since 2002. Without interruption. Love or hate the station, it's an impressive accomplishment.
Have a tip we should know? tips@mediaite.com