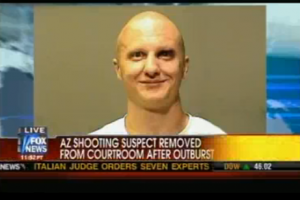 Jared Laughner, the man charged with opening fire during a Tuscon meet and greet by Congresswoman Gabrielle Giffords, was escorted from a courtroom this afternoon following an impassioned outburst during a hearing to determine his mental competency. Shortly thereafter a judge decided that Laughner was not competent to stand trial according to a number of psychologists who evaluated him.
Laughner, you may recall, fired into a crowd assembled outside a Safeway, injuring Giffords and killing six people, including a 9-year-old girl and John Roll. He entered a "not guilty" plea in January.
Poltico reports:
Witnesses say that a "disheveled" and unsmiling Laughner entered the courtroom, turned around, scanned the entire room. He rocked back and forth and then proceeded to yell something like "she died in front of me." Witnesses are giving conflicting reports about what else a visibly agitated Laughner shouted before being forcibly removed from the room.

Mental health experts have concluded that Jared Loughner – the man accused of fatally shooting six people in January and gravely wounding Rep. Gabrielle Giffords – is not competent to stand trial, CBS News reported Wednesday.

Loughner, 22, faces a competency hearing Wednesday before U.S. District Court Judge Larry Burns in Tucson. Burns must rule on whether Loughner is capable of understanding the charges against him and assisting in his defense.

CBS said it spoke with Justice Department sources who said Loughner "will almost certainly be declared mentally unfit for trial." The issue of Loughner's competence to stand trial is separate, as a legal matter, from any effort he and his defense attorneys may make to argue that he was insane at the time of the Jan. 8 shooting in a Safeway supermarket parking lot.
Watch the breaking news report, via Fox News:
Watch a report on the incident, via Fox News:
Have a tip we should know? tips@mediaite.com