Jason Mattera Describes Chris Rock Kerfuffle: He Went 'Berserk!', Attacked Camerawoman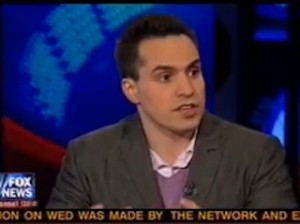 On Wednesday's Hannity, Human Events editor Jason Mattera described the moment when comedian Chris Rock went after his camera crew in a rage in January.
"What happened?" asked host Sean Hannity. "He goes berserk! Becomes unhinged and attacks my camerawoman, tries to wrestle the camera, finally gets it from her hands and launches it across the room," Mattera explained.
RELATED: Chris Rock Attacks Camera When Questioned About His Tea Party Comments
"It was at Spike Lee's after-party at the Sundance Film Festival. I said, you know, I'm tired of celebrities like him getting away with maligning and besmirching millions of Americans who go to Tea Party rallies, waving their American flags. they have baby strollers. They are concerned that Obama is spending their kids' future into oblivion and their character is maligned and no one holds Chris Rock accountable!"
Mattera earlier explained to Breitbart.com that Rock threatened him during the brouhaha, which took place late on January 23rd. Rock is alleged to have shouted, "'You want to throw down? Let's throw down right now!'" Mattera claims Rock "was standing safely behind two bodyguards when he said it."
"Chris Rock wants to call us racist and insane and then we becomes insane and unhinged!" Mattera exclaimed. "The right has to fight back or else — the right has to fight back because if we act like wimps like we did in 2008, we're going to get another four years of Obama."
Mediaite reached out to Mattera for comment about whether he reported the incident to authorities; he has yet to respond.
Watch Mattera's interview with Hannity below, via Fox News:
Have a tip we should know? tips@mediaite.com