Jason Mattera to Fox: Why Is an Employee of 'Most Trusted Name in News' Threatening Me?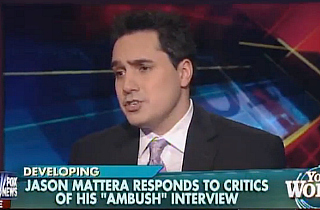 A mere 24 hours after being challenged to a knife fight by Fox host Bob Beckel, conservative activist Jason Mattera appeared on the network to respond. No knives were involved, nor was Beckel in the same studio as Mattera.
For background: Mattera recently made headlines by ambushing former IRS official Lois Lerner in her suburban Bethesda, Md., neighborhood. The activist chased after the ex-bureaucrat, berating her with questions about her agency's targeting of conservative groups, all while she desperately sought (and was rejected) refuge in a neighbor's home. Four of the Fox's The Five hosts had harsh words for the stunt, with liberal Beckel calling Mattera a "punk," a "coward," and challenging him to "Bring a knife" to whenever they meet.
Mattera responded to Beckel in an email to Mediaite, asking that the Fox host have him on The Five to debate the merits of his video.
Thursday's edition of Your World — the direct lead-in to The Five — featured Mattera, but no Beckel. Here's how Mattera spoke of the ordeal to host Stuart Varney:
I was actually a little surprised that you have the "Most Trusted Name in News" — Fox News and an employee of Fox News — threatening physical violence to a reporter who is going out and doing his job, which should've been done a while ago, and that is asking Lois Lerner these questions, which were basic questions. I wasn't yelling in her face. I was giving her her room. And here's a woman who — I mean, she had guilty written all over her face. She tucked tail and ran across the yard, tried to bust into a neighbor's house. […] Let's be honest. Bob Beckel has not paid attention to local news. Beat reporters around the country are constantly staking out bureaucrats and trying to hole them accountable for corruption. So what I did is not anything new; it happens every single day.
Varney countered that perhaps Mattera's "harsh" tactics created "more sympathy" for Lerner. The conservative activist disagreed. "I don't think anyone has sympathy for her," he said. "Most people think she should be behind bars.
Watch below, via Fox:
— —
>> Follow Andrew Kirell (@AndrewKirell) on Twitter
Have a tip we should know? [email protected]