Jay Carney Asked If Timing of Obama's Joint Session Speech Might Upset Nancy Reagan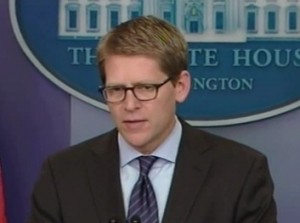 Minutes after the announcement that President Obama will deliver his much-anticipated speech on jobs before a joint session of Congress on Sept. 7, Press Secretary Jay Carney faced reporters who immediately zeroed in on the speech's conflict with the NBC/Politico Republican Presidential Candidates' Debate. Carney was also asked if there was concern that "stepping on" the debate, which is being held at the Reagan Library, might upset former First Lady Nancy Reagan.

Carney explained away the conflict as an unavoidable result of the vagaries of trying to sync the schedules of two entire branches of government, but whether you buy it as an accident, it is a happy one for the Obama administration. Aside from stealing the GOP hopefuls' thunder, which it probably won't do all that much, the timing sets up exactly the comparison that the President hopes to draw in the coming presidential campaign. He will literally be putting Republicans on the spot to talk about creating jobs.
The Nancy Reagan question was a reach, to say the least, but it is sure to spawn some cartoonish headlines about the President using a joint session of Congress just to upset a little old lady. No foul to the questioner, though. You never know when Carney will just go off the reservation and say, "To hell with Nancy Reagan!"
Carney responded by noting that NBC is free to schedule the debate around the President's speech, and that people would have plenty of opportunity to choose what they wanted to watch.
While NBC, Politico, and the GOP candidates may be unhappy with this development, the night promises an embarrassment of riches for political observers, and reporters. Republican debates are always entertaining, and the President's speech carries with it a defining political and policy debate, as well as the possibility of Joe Wilson-style theatrics
Much of the anticipation surrounding the President's speech has been centered around whether it would be an ambitious rope-a-dope to critics of his economic record, or a flurry of tiny slaps like the trade deals and payroll tax cut that he's been talking about. The timing and venue of the speech could be an indication that he plans to present something bold, and dare the Republicans to block him, but it definitely ratchets up the expectations. If the President's plan is seen as a dud, it will be seen as such under a much brighter glare.
Here's the clip, from C-Span 2:
Have a tip we should know? tips@mediaite.com