Jay Carney Battles CNN's Brianna Keilar on Obamacare Website: 'Not Sure What You're Missing'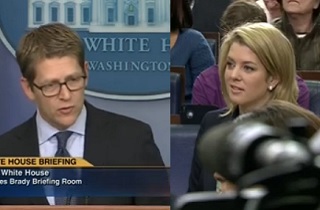 At Tuesday's White House Daily Briefing, Press Secretary Jay Carney fielded many similar questions about the difficulties with the Healthcare.gov website, and in an extended exchange with CNN's Brianna Keilar, apparently grew tired of repeating himself. Keilar followed several other reporters in trying to get more specifics out of Carney regarding the website's issues, and joined others in asking Carney, again, if he had purchased health insurance on the site.
Throughout the briefing, Carney continued to emphasize Obamacare signup methods other than the website, as well as the benefits of the law when weighed against the considerable technical issues, while highlighting changes to the site that have lightened the load. Late into the briefing, Keilar asked "You say there are improvements on the website. What are the improvements?"
Carney paused. "Well, I don't want to, but I will, repeat what I said," and explained that "you can preview plans and prices in your available without filling out on the online application," and that "you can apply coverage four ways. Some of the features on the website existed before, but they are now made more effective and prominent for users who go to healthcare.gov. The ones that assist users in finding out how they can get information through the other means rather than the website are more prominently featured."
Carney referenced, several times, that he had covered this material already with Keilar's White House colleague, Jim Avila. "If you're asking me, if there are troubles with the website, the answer is emphatically yes," Carney said. "The situation is getting better. We're seeing that every day. I dare say if the statistics I've seen reported are true, for every experience that has been difficult when it comes to use the website, there is at least one person out there, and one person who represents a family, who successfully signed up for the health insurance options that had not been available to them in the past."
Keilar tried to interject about the complexity of the process, but Carney cut her off. "You're absolutely right," he said. "Let me tell you what's more complicated, getting insurance prior to the existence of the Affordable Care Act."
"My question is about young people," Keilar said. "Are they going to want to jump through all those hoops, and don't you want to encourage them?"
"I agree," Carney said. "That's why we're engaged in an all-out effort to improve the online experience, and as we do that to make available information about other means to sign up. But again, the struggles that people are encountering in trying to — the enormous numbers of people interested in the Affordable Care Act, and the options available to them, and the troubles they're having with the website pale in comparison to when you don't have insurance."
"Doesn't this create a problem if you're back loading all the young people?" Keilar asked. "I mean, you want to encourage them."
"We are not back loading them," Carney replied. "We are encouraging them."
"They can register…" Keilar began.
"If you're asking me does the website work effectively, the answer is not effectively enough," Carney interrupted.
Several other reporters then chimed in to ask Carney if he had tried the website since the improvements, which he had, and if he had registered on the site.
"I get insurance through my employer so, no, I didn't get insurance," Carney said, adding "as far as I went, it went very well, as well as the telephone call I made."
Carney then repeated an exchange he had with Fox News' Ed Henry a few weeks ago, telling Keilar "I did not enroll because I have insurance," and added "you get insurance, I trust, through CNN, so you're not purchasing insurance."
"We have a lot of viewers who obviously want to do it," Keilar explained, "and we want to see sort of what their experience is."
"I'm not sure what you're missing when I tell you that we know there are problems, and we are working every day to try to fix them," Carney said. "In the meantime, because our focus is not on debating whether or not there are problems, because we already conceded there are."
"Can you identify what the problems are, and when will they be resolved?" Keilar asked.
"I think that's the first time you asked them in this colloquy," Carney replied. "We are addressing them every day, and the President won't be satisfied until it works effectively. In the meantime, we're making sure that the American people are made aware that there are a variety of avenues they can use to find out more about the Affordable Care Act and to the options available to them, and to discover the most important thing, they'll be able to purchase quality health insurance in a variety of prices for the first time in their lives."
Here's the exchange, via C-Span:
This post has been updated to reflect that Jay Carney was referring to an exchange with Jim Avila, not Jim Acosta.
Have a tip we should know? [email protected]