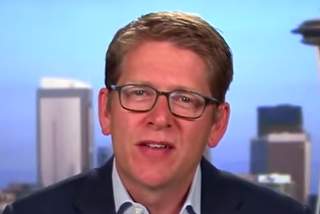 When former White House Press Secretary-turned CNN contributor Jay Carney announced he was joining Amazon as its new senior vice president for worldwide corporate affairs earlier this year, he probably thought he was in for a cushier gig than he had defending President Barack Obama for years. After this past weekend's brutal investigative article in The New York Times about Amazon's corporate working conditions, he may be wishing he was back in the White House press room.
On Monday, Carney was sent to CBS This Morning to represent Amazon in the face of intense scrutiny over the emotional abuse to which it allegedly subjects its high-level employees. He told host Charlie Rose that he, along with CEO Jeff Bezos, "don't recognize the Amazon that The New York Times wrote about."
"This is an incredibly compelling place to work," he continued, "a place where people are excited to come to work," rejecting the "cruel, Darwinian" portrayal in the article. On the issue of high turnover, Carney said that Amazon's attrition rate is "completely consistent" with other similar tech companies.
Among the "cruel" depictions of work life at Amazon in the piece include employees who regular cry at their desks, are expected to work 85-hour work weeks with no true vacations and are pushed out of their positions if they choose to spend more time with their families.
In an open letter to Amazon employees on Sunday, Bezos acknowledged the article and assured employees that "tolerance for any such lack of empathy needs to be zero."
"The article goes further than reporting isolated anecdotes. It claims that our intentional approach is to create a soulless, dystopian workplace where no fun is had and no laughter heard," he wrote. "Again, I don't recognize this Amazon and I very much hope you don't, either."
Watch video below, via CBS:
[Photo via screengrab]
— —
>> Follow Matt Wilstein (@TheMattWilstein) on Twitter
Have a tip we should know? tips@mediaite.com