Jay Carney Explains Why Obama Asserted Exec. Privilege In Heated Exchange With Press Corps
Carney Explains Why Obama Asserted Exec. Privilege In Heated Exchange With Press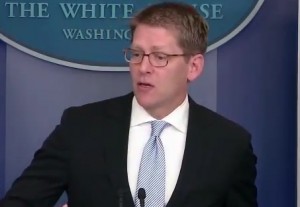 White House Press Secretary Jay Carney engaged in a heated exchange with members of the press corps in an attempt to explain why President Barack Obama invoked executive privilege to protect sensitive documents relating to the Fast and Furious gun walking scandal. The scandal led to House Oversight Committee Republican members to recommend Attorney General Eric Holder be found in contempt of Congress and forced the White House to invoke executive privilege to protect many of those related documents.

RELATED: Jay Carney To Press: 'You All Ought To Do Your Jobs' When Reporting Obama's Private Sector Gaffe
"You're giving [Holder] credit for ending the operation, does he not deserve some blame for the fact that this gun running operation ended in a federal agent getting killed on his watch," asked Fox News Channel's White House Reporter Ed Henry.
Carney replied that Holder made clear that he viewed the methods used in this operation as being unsuccessful which is why "he put an end to it."
Henry asked then how the White House can assert that Congress has received all the documents it has asked for when Congress claims they have only received 10 percent of the documents they requested.
"I think you're engaging in a little selective listening," responded Carney. "The documents over which executive privilege is being asserted are internal executive branch documents that have to do with response to congressional inquiries, response to media inquiries."
Henry followed up by asking Carney how many pages president Obama's executive privilege invocation covers.
"I don't have a page count for you," said Carney.
"Why not," Henry shot back.
"I just don't," Carney replied.
"As you, I think, perhaps more than others – given the interest of your network in this – your network knows that the administration, principally the Department of Justice, has cooperated extensity with Congressional investigators," said Carney.
Carney slammed Congressional Republicans for pursing this investigation over helping "create jobs" when it is clear there is no evidence of wrongdoing by any member of the administration.
The assertion of privilege came at a time when it became clear that there was no intention to resolve this matte r—at least to this point – in a good faith effort by House Republican leaders. They committed to their previously publically announced intention to hold a contempt vote – a highly political gesture, completely partisan vote – and, when efforts to resolve this matter otherwise were exhausted, in order to provide ether absolutely necessary stewardship to the executive branch that this President must provide on behalf of this administration and every future administration, this action was taken.
Carney closed by claiming that the White House was subject to a "political fishing expedition."
Watch the press briefing below via C-SPAN:
> >Follow Noah Rothman (@Noah_C_Rothman) on Twitter
Have a tip we should know? tips@mediaite.com