Jay Carney Grilled About Petraeus, Says Obama Still Has 'Confidence In His Commanders'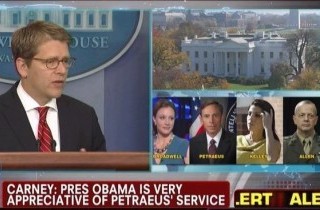 In a White House press conference Tuesday afternoon, Press Secretary Jay Carney addressed questions regarding the ongoing scandal involving CIA director Gen. David Petraeus and Gen. Jon Allen. Carney largely avoiding directly commenting on the affair, instead opting to emphasize that President Barack Obama is focused on actual policy matters.
Asked by Reuters whether the president sees this as scandal as an unwelcome distraction after the election, Carney replied that "I certainly wouldn't call it welcomed," adding that the news came to Obama "as a surprise," but then pivoted to the talking point that the president is currently focused on his policy agenda.
When asked to comment on what this scandal means for the president's need to "revamp the national security team," Carney said that he cannot speak directly about specific individuals and specific governmental positions. "I have no new announcements regarding personnel," he told the pool of reporters.
Challenged further about whether the president is concerned about "an inappropriate culture in the military," Carney pushed back, asking reporters to not "extrapolate" about two individuals. "The president has great confidence in his commanders," he said.
ABC's Jonathan Karl asked Carney: "How is it that the White House didn't have any idea of this until the day after the election?"
"Well, I would refer you to the FBI," Carney responded. "They have protocols in place for when they notify the legislative and executive branches of investigations. It is simply a fact that the White House was not aware of the situation regarding General Petraeus until Wednesday."
Karl probed further, asking about the odd timing of the news potentially giving off a suspicious appearance seeing as the news all broke after re-election was secured.
"All I can tell you is when the White House was informed," replied Carney, again referring the reporters to the FBI and the Department of Justice for an explanation of protocols.
When Karl asked whether it is appropriate for Petraeus to testify in upcoming hearings on the Benghazi attacks, Carney responded that it is up to Congress to decide who can testify, and added that the president is confident that the acting CIA director can handle the questions just as well.
Watch below, via Fox:

— —
>>
Follow Andrew Kirell (@AndrewKirell) on Twitter
Have a tip we should know? [email protected]