Jay Carney Hammered On Speechgate, Says 'It Never Came Up' In Meeting With President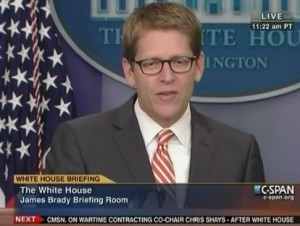 At today's White House briefing, Press Secretary Jay Carney fielded questions about the scheduling of next week's jobs speech like a shortstop playing pepper with a meth addict, and while little new was revealed, Carney did say that he spent "a great deal of time with him this morning, and it never came up."
Carney downplayed the issue, calling it media "catnip," but reporters continued to press Carney over whether the scheduling snafu was a sign of poor communication.
The other consistent theme of the day was a continued effort to get Carney to reveal more about next week's speech, so his answers are well-represented in the first few questions from CNN's Athena Jones, and ABC News' Jonathan Karl.
CNN's Athena Jones asked Carney for specifics on the "bipartisan" measures that the President plans to present in next week's joint session, and whether the White House had specific reason to believe that they would get support on the Hill. Carney declined to provide a tick-tock, except to say that the President "consulted widely, as he always does."
Jones then asked Carney what the President's reaction to the scheduling kerfuffle had been, and Carney responded, "I spent a great deal of time with him this morning, and it never came up," then paused before saying, "Honestly."
CBS News' Mark Knoller then joked that perhaps Carney wasn't asking the right questions, to which Carney responded, "I know you guys love this stuff, I know it's catnip, but we're really not focused on it."
ABC's Jonathan Karl then hit upon a theme that would run throughout the briefing, that Speaker Boehner's public refusal of the President's request was an indication of the administration's dysfunction. "You can't even get the Congress to agree on a date for the speech without a political sideshow," Karl began, "How can the American people expect you to do something much more difficult, come up with a jobs plan, dealing with the deficit?"
Carney responded, "Because the sideshows don't matter, the economy matters. The American people matter. Jobs matter."
He went on to repeat the hope that members of Congress would return from their break chastened by constituents into being more cooperative, the exact notion that Boehner's actions belied yesterday. He also explained, for the first time of many at this briefing, that the original date was selected as the soonest possible date that the President could address returning Congressmen, and that the President chose a joint session because his proposals will require Congressional action.
Here's the clip, from C-Span:
Have a tip we should know? [email protected]