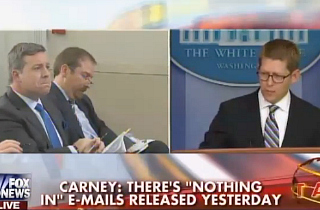 In light of newly-obtained emails regarding the 2012 Benghazi attack, White House Press Secretary Jay Carney and Fox News White House correspondent Ed Henry went head-to-head during Thursday's press briefing. At one point, the press secretary took a jab at the reporter and his employer.
After Henry questioned Carney over why the Ben Rhodes-authored emails focused on an anti-Islamic video rather than the terrorism aspect of the deadly siege, the press secretary remarked that the CIA-produced talking points at the time referred to protests at the Benghazi consulate as being inspired by similar demonstrations outside the American embassy in Cairo.
"What inspired those demonstrations outside of our embassy in Cairo, do you even remember?" Carney snarked at the reporter.
"I don't remember specifically," Henry replied, before Carney surveyed the room for answers. After one reporter spoke up, reminding the press corps of "tumult" in the region, the press secretary asserted: "I think it's fair to say that most people remember that there were demonstrations around the region, right?"
Several minutes later, Henry pressed Carney on why Rhodes' emails seemed to "make judgments" that the Benghazi attacks were inspired by the American-made Innocence of Muslims video. The press secretary reiterated that the White House was simply agreeing with what the CIA talking points had indicated for them.
And then he took a shot at Henry and Fox News: "The only thing that refers to Benghazi is a cut-and-paste which — much to your disappointment and your boss' disappointment — turned out to be produced by the CIA. Whatever information in there that turned out not to be accurate has been addressed multiple times by folks at the CIA and elsewhere."
[Correction: This post erroneously identified the Rhodes emails as having been "leaked." This has been changed to accurately reflect the nature of the emails.]
Watch below, via Fox:
[Image via screengrab]
— —
>> Follow Andrew Kirell (@AndrewKirell) on Twitter
Have a tip we should know? tips@mediaite.com