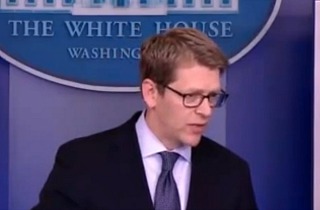 President Barack Obama first learned of the scandal involving Department of Veterans Affairs hospital administrators concealing the true wait times vets faced in the press, according to a claim made by White House Press Sec. Jay Carney on Monday. While the president may have not been aware of the falsified wait lists, however, reports indicate that his administration was informed of excessive wait times at the VA as early as 2008. Obama even campaigned on the issue of VA waiting lists in 2007.

"When was the president first made aware of these problems?" CNN reporter Jim Acosta asked. "These fraudulent lists that were being kept to hide the wait times?"
"You mean the specific allegations that were first reported by your network out of Phoenix, I believe, we learned about them through reports," Carney replied. "That's when, as I understand, Sec. [Eric] Shinseki learned about them."
RELATED: CNN Reporter: 'Hard to Believe' Washington Didn't Know About VA Scandal
While it is possible that the White House first learned about the apparent systemic effort by VA administrators across multiple institutions to hide the wait times that veterans endured, Obama was aware that excessive wait times were a problem even before he took the oath of office.
"When a veteran is denied health care, we are all dishonored," Obama said in October, 2007. "When 400,000 veterans are stuck on a waiting list for claims, we need a new sense of urgency in this country."
A report in the Washington Times on Monday revealed that the president and his transition team were briefed on persistent problems with care and waiting times at the VA before Obama took office.
"This is not only a data integrity issue in which [Veterans Health Administration] reports unreliable performance data," officials with the VA warned the president-elect in a brief. "[I]t affects quality of care by delaying — and potentially denying — deserving veterans timely care."
Watch the clip below:
[h/t Steve Krakauer]
[Image via screengrab]
— —
>> Follow Noah Rothman (@NoahCRothman) on Twitter
Have a tip we should know? tips@mediaite.com