Jay Carney On Benghazi Scandal: 'All Of This Is A Distraction From The Key Issues'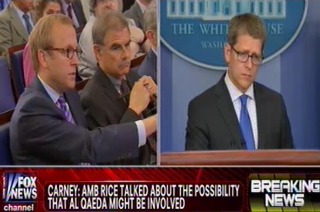 During Friday afternoon's White House press briefing, President Barack Obama's press secretary, Jay Carney, was asked to explain the report in ABC News which claims that the State Department edited out references to Islamic terrorism in their explanation of the attack on an American consulate in Benghazi. Carney said that both the president and United Nations Ambassador Susan Rice both referred to terrorism in the immediate wake of the attack and the ABC News scoop was a "distraction" conjured up by Congressional Republicans.

RELATED: Carney Distances White House From 'Independent Agency' IRS's Targeting Of Conservative Groups
ABC News Chief White House Correspondent Jonathan Karl, the reporter who broke the news that the State Department had edited the official talking points relating to Benghazi, grilled Carney over his assertions that the White House was not involved in the process and that the CIA was primarily responsible for those edits.
"The CIA original version include references to Al Qaeda, references to Ansar al-Islam – the original CIA version include extensive discussion of the previous threats of the terrorist attack in Benghazi," Karl insisted. "Those were taken out after the CIA wrote its initial draft."
"And then the CIA wrote another draft," Carney countered.
"With input from the State Department," Karl interjected. "Do you deny that?"
"No, Jon," Carney replied. He said that the process of editing the talking points did, like many other processes, include a number of agencies. Carney insisted that the administration only put forward the information they knew to be correct in the immediate wake of the attack.
"We knew it was extremists, or we knew that extremists had participated," Carney said. "There was also the belief by – from the beginning – by the intelligence community in these points that there had been protests out of which the attack occurred."
"The whole effort here by Republicans to find some hidden mystery comes to nothing because the president called it an act of terror," he noted. "The ambassador to the United Nations that very Sunday, that has caused Republicans so much concern, talked about the possible involvement of Al Qaeda and Ansar al-Sharia."
"All of this is a distraction from the key issues: a diplomatic post was attacked by individuals in Libya, in Benghazi," Carney added. "Four Americans lost their lives."
Watch the clip below via Fox News Channel:
> >Follow Noah Rothman (@NoahCRothman) on Twitter
Have a tip we should know? tips@mediaite.com