Jay Carney On Obama Campaign's Links To 'Cancer Ad' Star Soptic: 'We Are Not In Control Of Third-Party Ads'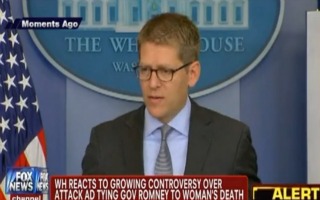 On Friday, White House Press Secretary Jay Carney answered questions from the press corps relating to the links between President Barack Obama's campaign and the subject of a controversial ad put out by a pro-Obama Super PAC featuring a steelwork that lost his wife to cancer. Carney was asked why the Obama campaign initially denied knowing the ad's subject, Joe Soptic, but campaign officials have recently acknowledged that they used Soptic's story in official campaign communications. Carney responded to reporters' questions by saying that they cannot control the ads that PACs run and asked why reporters were not asking Mitt Romney to denounce dishonest ads run by PACs loyal to his campaign.

RELATED: NY Times Buries The Lede: Anderson Cooper's Ratings Surge At 8PM
Fox News Channel's Ed Henry asked Carney if he had "any regret" that the Obama campaign said they had no first-hand knowledge of Joe Soptic's story, despite the fact that Soptic was featured in an Obama campaign advertisement and was on a conference call with Deputy Campaign Manager Stephanie Cutter.
"I think the campaign ads address this and I would refer you to their statement," Carney replied.
Henry followed up by asking if it would be appropriate for Obama to distance himself from this ad, given how he campaigned in 2008 as seeking to change the tone of the dialogue in Washington.
"I understand your question, and I would simply say that I don't imagine that you are asking the Romney campaign why they haven't condemned the third-party ad that suggests the President may not be an American citizen," Carney shot back. "I think it should be understood that we are not in control of third-party ads."
Carney went on to say that President Obama is not making the argument made in this particular ad, and that he is focusing on substantive policy proposals.
In a standup interview following the White House press briefing, Henry went on to outline how the Obama campaign belatedly acknowledged that they had utilized Soptic's story on multiple occasions for official campaign activities.
Watch the segment below via Fox News Channel:
> >Follow Noah Rothman (@Noah_C_Rothman) on Twitter
Have a tip we should know? tips@mediaite.com