Jay Carney: White House Not Interested In Bickering; Just Wants To Create Jobs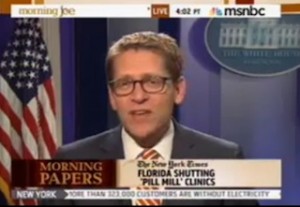 White House Press Secretary Jay Carney appeared on Morning Joe this morning, and after exchanging pleasantries about what its like to be a "classic sort of outsider as a member of the press" and his 10 year-old son's rock band, the discussion finally turned to yesterday's scheduling conflict, heretofore known as "speechgate." Carney made clear that the administration had in fact called the office of Speaker about the speech, and no objection was raised until the formal letter had been received by John Boehner's office, who then claimed there was a logistical problem. No sweat!
Like the solid Press Secretary that he is, Carney reiterates the White House position on what exactly went down yesterday:
Our intention was merely for the president to address a joint session of congress as soon as possible upon congress' return to the White House. Both houses will be in session on next Wednesday. We asked for that day. We contacted the speaker's office. No objection was raised at that time. The letter went forward. The speaker came back later in the day saying there was a problem with that, logistical. That's fine. We'll go Thursday.

Our interest is not in having a political back and forth here. Our interest is in the president speaking to people, speaking to congress about the need to do things, to create jobs to get the economy going. Americans are sick and tired of the bickering, the gridlock. What we saw over the summer, gridlock and partisan bickering is not new but what we saw over the summer, it can be harmful and deadly for the lives of Americans. people are fed up. We want to focus on the things we can do to get the economy growing. It's what the president is going to talk about next week.
Two salient points worth highlighting: 1) the White House did in fact contact Boehner's office as had been rather undereported yesterday and 2) the White House wasn't trying play politics, they were simply trying to arrange an opportunity for the president to speak to the American people about jobs. The message? President Obama is an adult that is trying to raise above the inside beltway political bickering with which the American people have so much frustration. And that, my dear readers, is the beginning of a campaign narrative that we can expect to see for the next 14 months.
Watch the clip below, courtesy of MSNBC:
Have a tip we should know? tips@mediaite.com
Colby Hall - Founding Editor