Jay Carney Pushes Back at Ed Henry on 'False Assertion' of 'Right to Enrich' in 'Secret' Iran Nuke Deal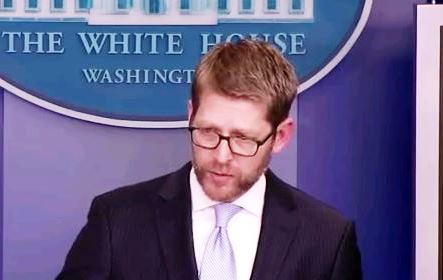 At Tuesday's White House Daily Briefing, Press Secretary Jay Carney pushed back at Fox News' Ed Henry over the suggestion that the first stage deal with Iran over its nuclear program constitutes recognition of a "right to enrich uranium," and explained that while the deal contains agreed-upon limits on enrichment, there is no "right to enrich" enshrined in the pact. Carney also corrected what he called a false report, of a secret side-deal within the new agreement.
"Is it still the administration's position that Iran should not enjoy a right to enrich uranium?" Henry asked, referencing remarks by Iranian Deputy Foreign Minister Abbas Araqchi to Iranian state media.
"That has never been what we've said, it's not enshrined in the agreement, in fact, it's explicitly stated otherwise," Carney replied. "I think that's important to note."
"So, during these negotiations, they can enrich," Henry followed.
"I would point you to the agreement and what commitments Iran makes in terms of the levels of enrichment they're allowed to meet," Carney replied, "but the assertion, often misstated in various quarters, that the agreement recognizes the quote-unquote 'right to enrich,' is false."
Henry then asked Carney why the State Department and the White House had not, "in the interest of transparency," talked about the secret 30-page side-deal that "the Iranians have revealed? Is that true?"
"No," Carney replied, "and it's another indication of reporting that's not accurate. There is no secret agreement, the documentation associated with the implementation agreement tracks completely with what we have described, which are technical plans submitted to the IAEA."
He added that those plans will be released to Congress and the public when the parties to the deal agree, which he said they hope to do "soon."
"Then why would the Iranian side be out there suggesting there's a side agreement?" Henry asked.
"What Iranian leaders say for their domestic audience purposes is far less meaningful than what they do, and what the agreement permits them to do." Carney replied.
Here's the video, from The White House:
Have a tip we should know? tips@mediaite.com