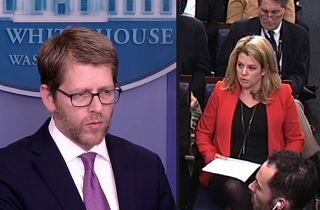 At Tuesday's White House Daily Briefing, the parlor game of the day was to try and get Press Secretary Jay Carney to agree that the president should negotiate with Republicans on a "pay for" for an extension of emergency unemployment insurance. Carney reasoned that Republicans, propelled by public opinion and the precedent of 14 out of 17 previous extensions, are moving in the White House's direction on this, making horsetrading unnecessary. In one such exchange, CNN's Brianna Keilar tried to argue that enough Republicans were already on board to break a filibuster on Monday, which Carney refuted using CNN's own reporting.
"On unemployment benefits, you're citing momentum on that, which seems to be based on the fact that the White House expected the preliminary vote to fail," Keilar began.
"We didn't," Carney shot back. "You guys did."
"Well, some Senate Republicans were indicating they had the votes as early as yesterday afternoon, and then…" Keilar started, again.
"Really?" Carney said. "I had one of your colleagues tell me, an hour before it passed, right here in this room, that we were three votes short — two votes short."
"We reported that Senate Republicans were indicating — some Senate Republicans…" Keilar responded.
"Well, I think it was close, Brianna," Carney interrupted. "I think there were exactly zero Republicans on the record for this. Then there was Senator Heller, who, admirably, co-sponsored this legislation, and then we ended up with six. It's what makes these things worth covering, is that none of this was baked in the cake."
As of 4:30 Monday afternoon, in fact, CNN was reporting one Republican vote for the bill, and by day's end, still had the Democrats 2 votes short for the cloture vote.
"Yes, it was going to be close," Keilar conceded, "but as Jon noted, the Republicans who voted for it, they want conditions that obviously the White House isn't advocating. And this was a preliminary vote. This was a vote to begin debate. So is this really momentum in terms of a clean extension of long-term unemployment benefits?"
Carney responded with an emphatic and uncharacteristically succinct "Yes."
He explained that the Republican position on the extension has evolved from stating that "the benefits weren't necessary and, in fact, according to one top Republican, they were a disservice to the recipients of the benefits. So I think by anybody's analysis, that view has evolved in a positive direction."
Keilar also asked Carney a followup on CNN's interview with Dennis Rodman, but Carney would only reiterate the US position on North Korea, and imprisoned American Kenneth Bae. Of Rodman's comments, Carney said, "The interview that you mentioned — I won't sort of dignify what I understand was an outburst with a response," and a few moments later, told Keilar "I'm not going to address the assertions made in the interview because they don't merit one, a response or a comment."
Here's the clip, from The White House:
Update: Brianna Keilar disputed the headline to this story, which originally read "Jay Carney Refutes CNN Reporter With CNN's Reporting," on Twitter Wednesday morning. You can read the full exchange here, but her objections included the fact that when Carney referenced a colleague of Keilar's, he was not referring to a CNN colleague. I did take Carney to mean someone like Jim Acosta, who was still reporting the Democrats were short Tuesday morning from the White House, but I checked with Jay Carney, and he said "Was not CNN, different outlet. That's all I'll say."
When I told Carney about Acosta's reporting, he replied "Didn't know that."
However, the original headline wasn't just based on that part of the exchange, but on Carney's earlier response to Keilar about the prospects for the cloture vote. I asked Carney for clarification (via email):
TC: When you said "You guys did," were you referring to CNN, were you including CNN, or did you mean everybody but CNN?

JC: Tommy – I was referring to a specific conversation with a specific reporter who does not work for CNN. But I was also making the point that the press in general had been suggesting and reporting that the vote would likely fail.

TC: Right, but specifically, when you said "You guys did," you were referring to the press in general, including CNN?

JC: Yes.
Hence, the new headline, which reflects that Carney wasn't targeting CNN specifically, but was including their reporting in his response.
The point I was trying to make, which I have made before, is the ways in which Carney leverages his experience as a reporter in his job as press secretary.
Have a tip we should know? tips@mediaite.com