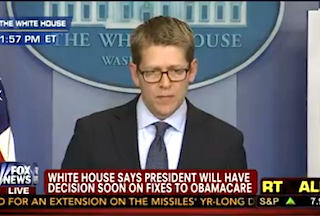 During his daily press briefing Wednesday, White House Press Secretary Jay Carney struck a confident tone when it came to getting HealthCare.gov up and running smoothly be the Obama Administration's self-imposed November 30th deadline. He discussed specific metrics that have been met and overall "measurable progress" towards the ultimate goal.
"It is our belief that we are on track so that by November 30th, HealthCare.gov will be working smoothly for the vast majority of users," Carney told reporters, using Obamacare website czar Jeff Zients as his primary source. Carney acknowledged that there are "still problems that need to be addressed" but maintained that the target date remains the same.
"As with any major website that is complex as this one is, it can be working smoothly for the vast majority of users and there can be problems," Carney cautioned. "So, I do not doubt that if we meet this goal and it is working smoothly for the vast majority of users, there will be stories of people who experience delays or difficulties."
Carney freely admitted that "there is no question that since the launch date of October 1st, the performance of the website has been far less than satisfactory." But, he added, moving into specifics, "this progress that is being made every day, is measured against metrics that focus on response time and error rate and site stability. Progress on these are moving in the right direction. Pages are loading faster and error rates are down."
Loading time, he added has been reduced from 8 seconds to less than 1 second. Error rates, or the frequency by which users are kicked off the site or prevented from moving forward, are down to 1%.
"There are specific metrics by which progress is measured and there is measurable progress to report," Carney said in an attempt to give context to the process. "There are software fixes being made, hardware fixes being made, and each day we get closer to where we need to be."
Watch video below, via Fox News:
[photo via screengrab]
— —
>> Follow Matt Wilstein (@TheMattWilstein) on Twitter
Have a tip we should know? [email protected]