Jay Carney Smacks Jon Karl Down Hard, Gets Instant Fact-Check on John Boehner Comments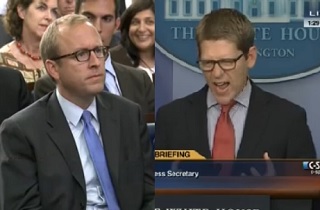 White House Press Secretary Jay Carney has been fighting back hard against some White House reporters over their coverage of the recent government shutdown/default crisis, and continued to do so today. While answering a question from another reporter, Carney impatiently chided an interrupting Jonathan Karl of ABC News, then called for a real-time fact check of remarks made by Speaker of the House John Boehner (R-OH) this weekend.
In recent weeks, the competition for highlight of the White House Daily Briefings has come down to a tie between The Jay Carney/Ed Henry Crossfire Audition, and the equally entertaining Carney & Karl segments, each designed to allow Jay Carney to position the reporters as opponents, rather than journalistic adversaries. On Monday, Karl won out by interrupting Carney as he answered a question from Reuters' Mark Felsenthal.
"Speaker Boehner said, this weekend, that there would be no increase in the debt limit without concessions from the President," Felsenthal said. "Can you comment on that?"
"Contradicting a host of times when he himself said we would never default, Republican leaders in the House and Senate have long said that they would never allow us to default," Carney began, addding, "Now we see the leader of the Republican Party on Capitol Hill saying he will not raise the debt ceiling if Republicans do not get what they want. That is highly reckless and irresponsible. It is astounding, really, if you think about it. On October 7, given how little time there is left, that the Speaker of the House is announcing to the world he will not allow a bill to raise the debt ceiling pass if Republicans do not get their specific demands…"
"That's not what he's saying, Jay, he's saying it's negotiable," Karl interrupted.
"Hey, Jon, I am having a conversation here," an impatient Carney said, adding "I'm sure you'll represent what the Speaker is saying in a minute."
"That's not what he said," Karl responded.
"He said that he would not…" Carney began, then sought some backup from Karl's colleague. "Mark, you asked the question. Why don't you say what it is your understanding that the Speaker said?"
"The speaker apparently said that it's still the case that he will not raise the debt ceiling without concessions from the President," Felsenthal said.
"And our position is, this is too important to demand political concessions in return for fulfilling the responsibility by Congress to ensure we pay our debts and do not default," Carney said.
Speaker Boehner's remarks in the This Week interview that Carney referred to are open to minimal semantic interpretation, as Boehner repeatedly used passive constructions to describe actions that his own House caucus might take, but Karl seems to be suggesting that it is possible that Boehner might relent following a conversation in which no concessions are made, even though the President and the Speaker have already had such a conversation.
Carney's rebuke of Karl carried, with it, an extremely loaded word choice, not that Karl would accurately quote or recount Speaker Boehner's remarks, but that he would "represent" them. It's just the latest in a series of "reporter cards" that Jay Carney, a former White House reporter himself, has peeled off the deck from the podium.
Here's the clip, from C-SPAN:
Update: Later in the briefing, Jon Karl gave his interpretation of what Speaker Boehner said. See if you can figure out how it diverges from what Carney and Felsenthal said:
To go back to what the Speaker said is the key — they are not going to pass a clean debt limit increase. They aren't — he didn't give a specific set of demands that actually have to be met, but he said he's not going to have a clean debt limit increase. If the Speaker of the House sticks to that position, are we going into default?
If Karl rests his defense of Boehner on the notion that "he didn't give a specific set of demands that actually have to be met," that's a qualifier that neither Carney nor Felsenthal used.
Have a tip we should know? tips@mediaite.com