Jay Carney Snarks At Fox News Host: 'If You Did A Little Reporting, You'd Know…'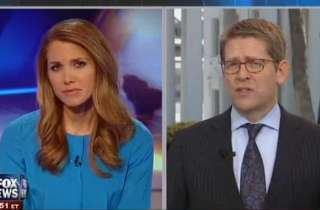 White House Press Secretary Jay Carney made a rare appearance on Fox News today, taking a grilling from Happening Now host Jenna Lee. At one point, Carney made a biting comment about Lee's reporting skills during a tense exchange on the canceled White House tours, perhaps indicating that the administration's relationship with the network is still an overtly standoffish one.
Lee asked Carney about the "common ground" President Obama intends to find with Republican lawmakers on the nation's budget issues. The press secretary answered that he will ultimately seek "a deficit reduction path by agreeing that we should pair cuts to our entitlements, and reforms to our entitlements with tax reform that also generates revenue."
He added that if we are going to ask more of our seniors and middle-class families that we ought to ask a little more from the well off and well-to-do through tax reform.
"The president has said that he's open to changing the way that Social Security benefits, the increase for Social Security benefits are figured out, are calculated," Lee noted. "He's open to that as part of a big deal. But if the president feels so strongly that changing that would be great for our country as a whole, why not just do it? Why use it as a bargaining chip?" she asked.
"That is certainly the Republican line, that we should do what they want to do and what is hard for Democrats, but not what is hard for Republicans. And that's not how a balance works," Carney replied. "Why should we ask seniors to give but allow the well-off and well-to-do to keep special tax loopholes and exemptions in the tax codes achieved largely through lobbyists' work and not ask them to pay a little bit more. That doesn't make any sense."
"For the good of the country," Lee pushed back. "If it's for the good of everybody why not consider it?"
"Because what is good for the country is balance," Carney shot back. "There is no way to get revenue neutral tax reform to the tune of $5.7 trillion without sticking it to the middle class to the tune of thousands of dollars of years. That's just how the math works."
When Lee moved on to the subject of the canceled White House tours, things got a bit tense. She asked why the White House will open its doors for the "Easter egg roll" while shutting out "regular families" for tours.
"Well actually, Jenna, again, if you did a little reporting, you'd know that the easter egg roll is open for a lot of military families," the press secretary snarked. "It's paid for by the sale of those eggs that come out as well as from donations on the outside. It's a totally different budget. These are apples and oranges."
Lee's final question was about the Benghazi attacks, noting that Fox News reporting earlier today had found that three diplomatic security agents who were injured in the siege have been unable to speak to the press thereafter. She asked whether the White House is "preventing" the survivors from speaking publicly.
"I have no knowledge of this story," Carney replied. "I'm sure that the White House is not preventing anyone from speaking." He reaffirmed the administration's belief that the September attacks were a "tragedy" and that the president is focused on bringing the perpetrators to justice.
Lee pressed on: "Does the president have an official position at all in helping lawmakers or congress get access to the survivors? Will the White House be part of that process?"
"I appreciate it, but I'm not familiar with the story," Carney replied. "I should have been watching Fox earlier. I'm sure we can get more information on that for you."
Watch below, via Fox:
— —
>> Follow Andrew Kirell (@AndrewKirell) on Twitter
Have a tip we should know? tips@mediaite.com