Jay Carney Tells Fox News' Ed Henry That Obamacare is Going For It on 4th Down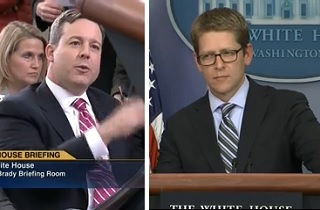 The government shutdown/debt ceiling crisis featured an ever-escalating series of metaphors, but that has given way to kinder, gentler imagery for the current center of the political universe, the Obamacare website. At Thursday's White House daily briefing, Fox News' Ed Henry kicked off with some football metaphors, which Press Secretary Jay Carney carried across the goal line when he told Henry "You get four downs and then you get a first down, and then you score a touchdown."
In her prepared testimony Thursday morning, however, Campbell, SVP for contractor CGI said that the Center for Medicare and Medicaid Services (CMS) was the "quarterback."
"To be clear," Henry continued, "is Secretary Sebelius the responsible party? Is she the quarterback for these mistakes? I understand contractors made these mistakes, but ultimately is the HHS secretary responsible? Is the president responsible? Who is responsible?"
Carney explained, again, the President's position that the website's performance was "wholly unsatisfactory," and the work being done to fix it.
Henry asked about the handful of Senate Democrats who have begun to call for a delay in the individual mandate, and Carney reiterated that "We're still early in that (enrollment) process."
"March 31st is still a significant ways away," Carney said, "and we are working to make the system better. The system was an inadequate website on October 1st, and it still isn't where it needs to be today, by any means. But it's significantly better today than it was a week ago, the week before that and certainly on October 1st. That's the progress we're looking for. I think I used the go-to sports analogy that this is three yards and a cloud of dust every day. But that means moving forward, and that means improvements every day that will help Americans get the information they need so they can get the insurance they deserve."
Henry pointed out that it's customary to punt in that situation.
"You get four downs, and then you get a first down," Carney replied, "and then you score a touchdown."
Henry also asked about a New York Times report that showed a lack of competition in some rural areas, which has resulted in a failure to lower costs. Carney pointed to stats showing lower-than-expected premiums and low cost options for most Americans, and noted that the lack of competition in rural areas long predated the Affordable Care Act. "Prior to the ACA," Carney said, "many individuals had no access because they were denied coverage due to a preexisting condition, or priced out of the market entirely."
Here's the clip, from C-Span 3:
Have a tip we should know? tips@mediaite.com