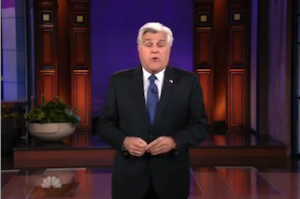 Jay Leno has not been shy about making jokes at President Obama's expense, as evidenced by a recent study from the Center for Media and Public Affairs, and last night was no different. This was despite the fact that Obama was making his sixth appearance on the show, sitting down for a wide-ranging interview with the late night ratings leader.
After a self-deprecating joke about his own employment future at NBC, Leno jumped into his continued criticism of the Obama administration's NSA programs. "It will be great talking to him on a one-on-one basis," Leno said. "Plus, it saves him the trouble of having to go through my e-mails and listen to my phone calls."
Leno also commented on Obama's recent 52nd birthday, calling him a "silver fox" because "most of the silver in his hair was caused by Fox." On Obama's decision to send Sen. John McCain to Cairo to "help solve the political problem that brought the Egyptian government to a halt," Leno said, "I got an idea: how about solving the problems that brought our government to a halt? Why don't we start with that one first?"
And finally, Leno even found a way to work on Obama joke into his piece about former President George W. Bush's heart surgery. "He had a stint put in his heart, and he's gonna be fine," Leno said of Bush. "That's the good news. So, I guess that Obamacare isn't so bad after all."
The late night host was far more deferential to the president once he came on stage, at one point telling Obama he thought he spoke "very eloquently" about the Trayvon Martin case. Only on the issue of terrorism did Leno take a more critical approach, asking about the "cynics" who say the recent global terror alert is just an "overreaction to Benghazi."
Watch video below, via NBC:
And you can watch President Obama's full interview on the Tonight Show here.
—
>> Follow Matt Wilstein (@TheMattWilstein) on Twitter
Have a tip we should know? tips@mediaite.com