Jay Leno on Meet The Press: 'Republicans Really Laugh At Themselves More' Than Democrats
Jay Leno: 'Republicans Really Laugh At Themselves More' Than Democrats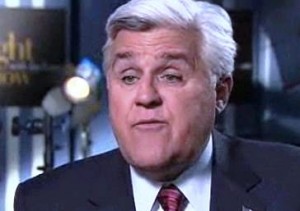 Jay Leno made the leap from late night to early morning today with an appearance on Press Pass, the online edition of Meet the Press, where the comic sat down with David Gregory to talk about mixing humor and politics. Leno shared some interesting anecdotes about the behind-the-scenes moments with his most notorious political guests, while giving his take on how comedians should handle joking about politics in this age of new media.
RELATED: On Leno, David Gregory Candidly Critiques Romney, Obama And 'Ineffectiveness' Of 'Our Major Political Institutions'
Leno immediately brought up how social media and the rise of the internet since his show began in the early 90s have been essential in helping retool the show as the years progress. Gregory observed that since Leno and his peers (David Letterman, for one) got into the late night business, so many other people have gotten into the game, and he joked that maybe some people think it's easier to become a late night host than one would think. But despite whatever changes may have come in the past few decades, Leno maintains that the late night game is still all about maintaining a "one-on-one" connection with each individual viewer and making people laugh as they end their busy day.
One change Leno did note, however, is the attention span from the audience, and how comics are now pressured to get their jokes out quickly instead of taking time to set up a joke like the comics of old used to do.
Leno branded himself as "old-school," and laid out the difference between his show and what Jon Stewart and Stephen Colbert do on their shows.
"They're reaching a specific audience. I'm reaching hopefully some of that audience and maybe some of their friends and maybe some of their parents and maybe some of their kids and we're just going for that wide scope. You know, you try to do one clever joke, then maybe a silly joke, and then one kind of an entertainment-based joke, and maybe another political joke. It's not all one thing, and that's kind of what we try to do."
Gregory asked him if politics was more of a goldmine for comedy than other aspects of the news, especially considering its scandalous nature. Leno brought up the "Etch-a-Sketch" comment made by a Romney advisor that resulted in even the other candidates getting in on a national joke. When Gregory asked Leno about what he thought of Mitt Romney's recent appearance on his show, Leno gave a rather thorough take on how politicians and political parties react to humor.
He said, "Democrats and Republicans are interesting, because Republicans really laugh at themselves more." He recalled that when candidate George W. Bush appeared on his show in 2000, when Leno's staff asked Bush if he would be willing to do a skit on the show, Bush enthusiastically agreed. But when the show tried to get Al Gore to do a similar sketch, he said that Gore's people immersed themselves in a serious discussion about how it would play with voters or something. Leno recalled when John Kerry appeared on his show in a motorcycle and wearing a leather jacket as a "weird" moment.
Gregory asked Leno if it was easy to make jokes about President Obama, and Leno admitted that Clinton and Bush represented a "golden age of comedy" that Obama has not exactly continued that much. When Gregory brought up all the fun he's been having with the candidates in this race, Leno laid out exactly what his ground rules are for joking about political figures.
"It's like dealing with the mafia. Don't go after the wives and the children. But as long as you just hit the candidates, I think anything's fair and it's open game."
RELATED: Mitt Romney Cracks To Leno That Rick Santorum Can Be His 'Press Secretary'
Leno talked about doing shows in Detroit for people, and he said he was amazed by how nicely he was received by the people there. He admitted that the one of the annoying parts of his show is hearing from people who don't care for certain jokes or were offended by what was made into a punchline.
Watch the full interview below, courtesy of NBC:
Have a tip we should know? [email protected]
Josh Feldman - Senior Editor