Jay Pharoah Says SNL Needs to 'Pay Attention' and Hire a Black Female Cast Member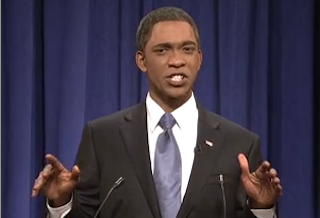 Saturday Night Live hired six new cast members for the start of its 39th season. Only one of them is a woman. All six are white. Now, the man who portrays President Barack Obama for the show is speaking out, saying it's about time the show added a black woman to the cast. In an interview with theGrio, an NBC Universal-owned website targeting African-Americans, Jay Pharoah made his suggestion public.
"They need to pay attention," Pharoah said. "Her name is Darmirra Brunson… Why do I think she should be on the show? Because she's black first of all, and she's really talented. She's amazing. She needs to be on SNL. I said it. And I believe they need to follow up with it like they said they were going to do last year."
Most recently, Darmirra Brunson has appeared on Tyler Perry's Love Thy Neighbor, a sitcom that airs on Oprah Winfrey's OWN network. Before that, she appeared in a popular web series on YouTube, where she played potentially-perfect-for-SNL characters like Rihanna, Beyoncé and Nicki Minaj.
"It's one of those things that's hard," Pharoah said about the lack of diversity on the show. "Some people choke up. Some people burn their bridges by saying things they shouldn't say either. You just have to be very political about your delivery, what you say, and your performance. You've got to be on point. Everybody has to like you and want you to win. If they don't like you, it's a wrap."
There have not been any African-American women in the cast since Maya Rudolph left in 2007. She was only the third black female member in the show's 39 year history, after Danitra Vance (1985-1986) and Ellen Cleghorne (1991-1995).
As for what it's like to be just one of two African-American cast members on the show, along with Kenan Thompson, Pharoah said it can be beneficial in terms of getting extra exposure. "There's not a lot of us, you know?" he said. "So actually, when you're on here, it's kind of cool. What can you say? We're in a very coveted position."
[h/t Splitsider]
[photo via screengrab]
— —
>> Follow Matt Wilstein (@TheMattWilstein) on Twitter
Have a tip we should know? tips@mediaite.com