Jay Z Speaks Out Against 'Blatant Racism' In Zimmerman Verdict: 'This Guy's A F*cking Mall Cop'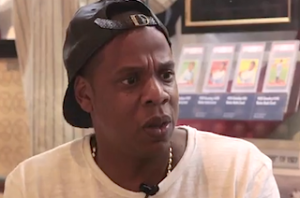 Rapper Jay Z, who attended last weekend's "Justice For Trayvon" rally in New York City, has spoken out for the first time on the George Zimmerman verdict with a video interview posted to his YouTube channel. In the interview, conducted by Rap Radar's Elliott Wilson, Jay Z discusses how "angry" he was after the acquittal and describes Zimmerman as a "novice" and a "fucking mall cop" who didn't know what he was doing the night he followed Trayvon Martin.

Before delving into his own views on the case, Jay Z praised President Obama's remarks about race and the impact of the trial on African-Americans. "Amazing, amazing, amazing because it's hard in politics to really just make a statement as a human," he said. "I felt he was very admirable because he made a statement as a father and as a black man and as someone who had compassion for the things that we go through because he's been through it before." Jay Z said he now has "another level of respect" for the president.
Speaking more specifically about his reaction to the verdict, Jay Z said, "I was really angry, I didn't sleep for two days. I was really angry about it that the thing that we all knew that there was still a bit of racism in America, but for it to be so blatant. If you just ask the question, ask yourself the question, 'Didn't Trayvon have the right to stand his ground?' He was being chased, he was being chased and fought back. You know, he may have won, that doesn't mean he's a criminal, he won. I mean, if you chase me, If you try to attack me and I defend myself, how can I be in the wrong? How is that right?"
He echoed sentiments shared by Obama about his own children and the younger generation, saying, the trial is "a reminder of we still got a long way to go" but at the same time, "It's beautiful because this generation right now, this generation, they don't see color in that way."
"We all know it was wrong. It was wrong. This guy's not a professional," Jay Z said of Zimmerman. "You're not a professional to profile someone… A professional law enforcement officer is taught not to profile. This guy's a novice. This guy's a f–king mall cop."
Jay-Z said he recently dedicated a song to Trayvon Martin during his concert to help "his memory will live on." He said he hoped the incident will lead to a change in Stand Your Ground laws and "the way that we interact with each other," but hates that "a child had to be sacrificed for that."
Watch video below, via JAY Z's Life + Times:
—
>> Follow Matt Wilstein (@TheMattWilstein) on Twitter
Have a tip we should know? tips@mediaite.com