Jaycee Dugard Speaks To ABC's Diane Sawyer: 'You Just Do What You Have To Do To Survive'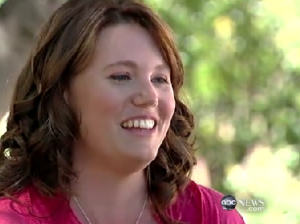 In her first interview since the day in 1991 when she was kidnapped, Jaycee Dugard described a life in captivity to ABC's Diane Sawyer–saying she endured years of abuse and the birth of two children the best way she knew how. "You just do what you have to do to survive." Dugard, who's written a book about her life, shared for the first time the details of her abduction–a disappearance that haunted her family and frustrated police (who we learn came very close at times to finding her).
Dugard says she was walking to school when a car rolled up, the driver's window went down, and her entire life changed:
"His hand shoots out and I just feel numb. My whole body is tingly…I fall back in the bushes," Dugard said.

Garrido had shocked her with a stun gun. Panicked, Dugard scooted back towards the woods. She remembers grasping a sticky pinecone, the last thing she touched while free.

Now, she wears a pinecone charm around her neck to symbolize her freedom.

"It's a symbol of hope and new beginnings and that there is life after something tragic."

After shocking her, the Garridos stuffed her into their car, hid her under a blanket in the backseat.
Dugard told Sawyer she wondered througout her captivity if her mother, with whom she's been reunited, was looking for her. ""I wondered if she found out what had happened to me, if she was looking for me," Dugard said.
Watch it here, from ABC News:
Have a tip we should know? tips@mediaite.com